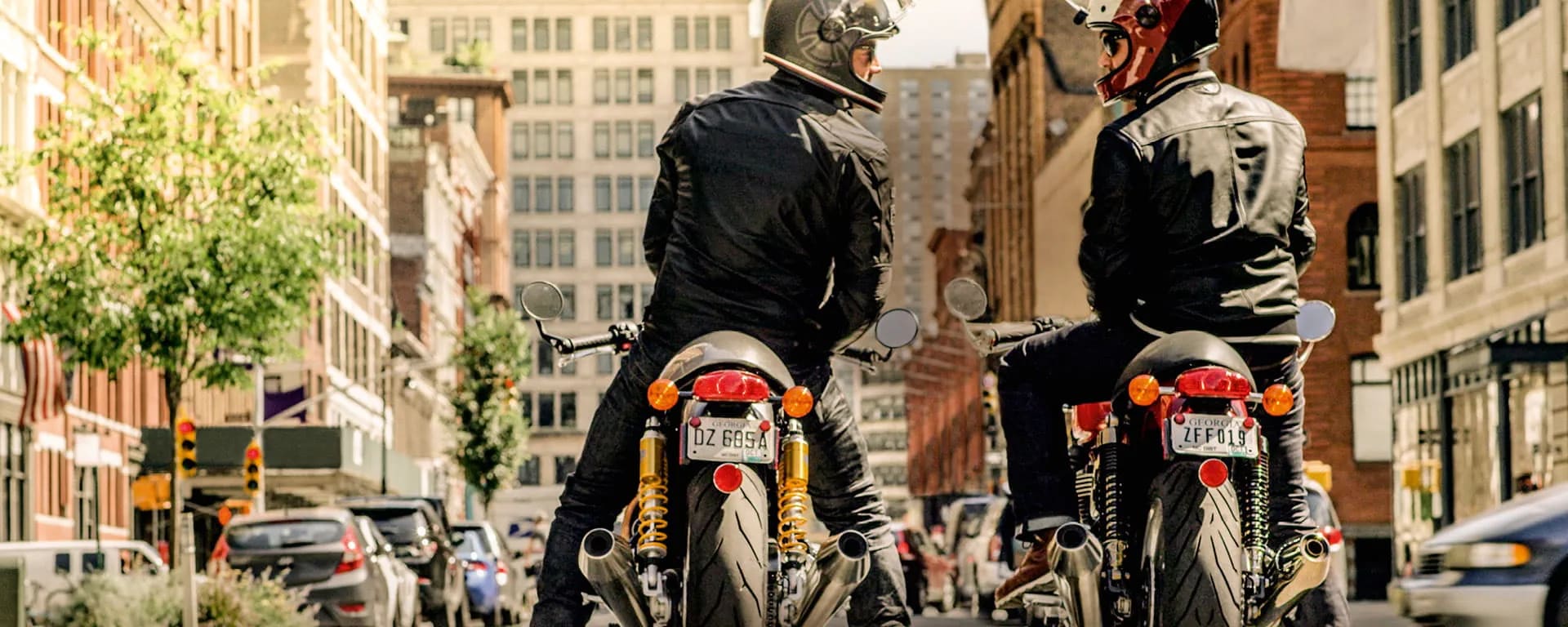 YOUR TRIUMPH
TAKING CARE OF YOUR BIKE
When designing and developing our bikes, we think about everything around riding and looking after you and your bike. Alongside the bike, we create all the right services, accessories and support packages to compliment and care for your ride.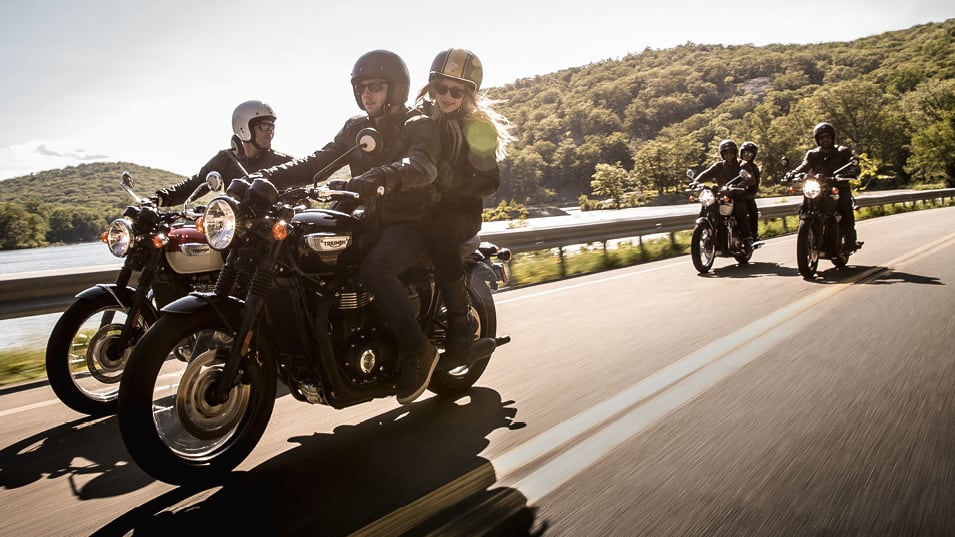 Muc-off
An essential Motorcycle Care Kit that brings together a hand-picked collection of top-performing Muc-Off cleaning products to help keep your bike looking and performing at its best.
The kit includes a 15-litre Triumph-branded 'drybag' and a superb selection of Muc-Off cleaning products that are central to their simple three-step 'Clean, Protect, and Lube' motorcycle care process.
CARE KIT PRODUCTS
This exclusive kit has been created in partnership with Muc-Off and is specifically designed for you to clean and care for your Triumph.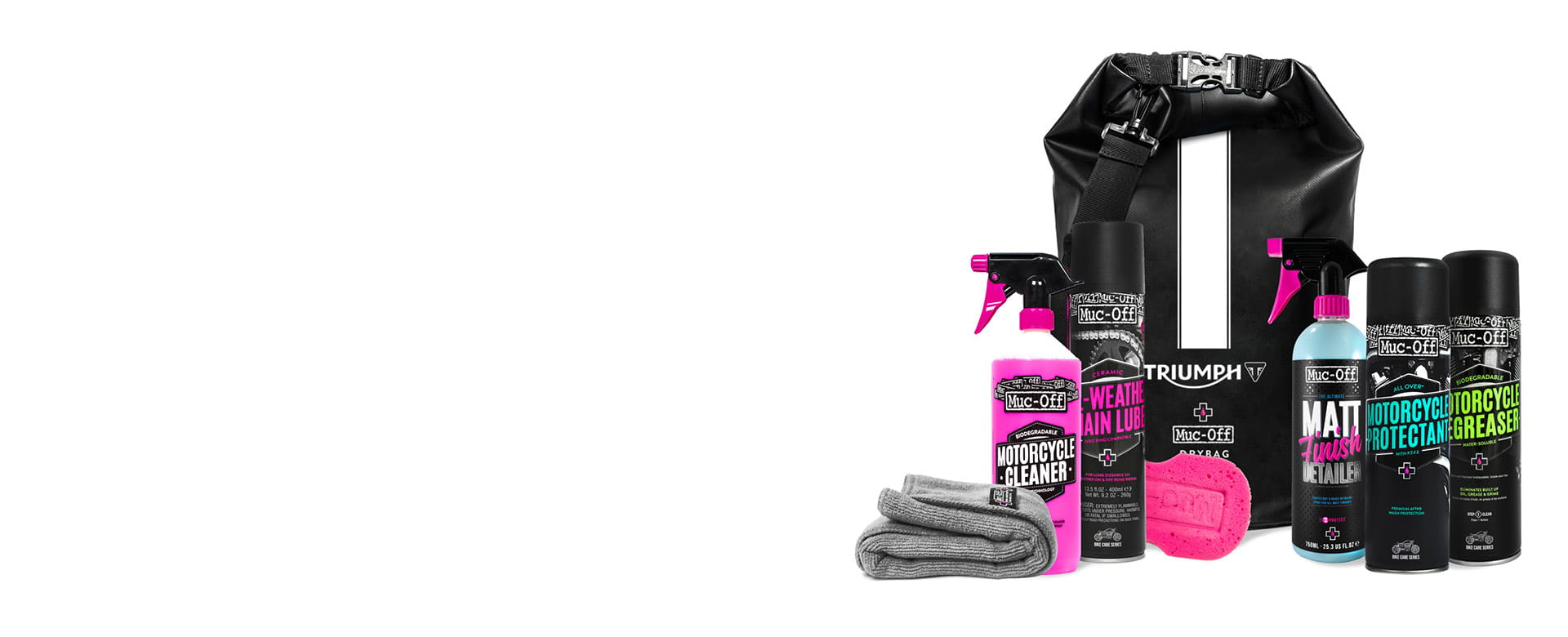 NANO TECH MOTORCYCLE CLEANER
A state-of-the-art industry-leading motorcycle cleaner that quickly and effectively cuts through dirt and grime on a microscopic level without the use of dangerous acids, cfc's or chemicals. Comes in a handy 1-litre spray bottle.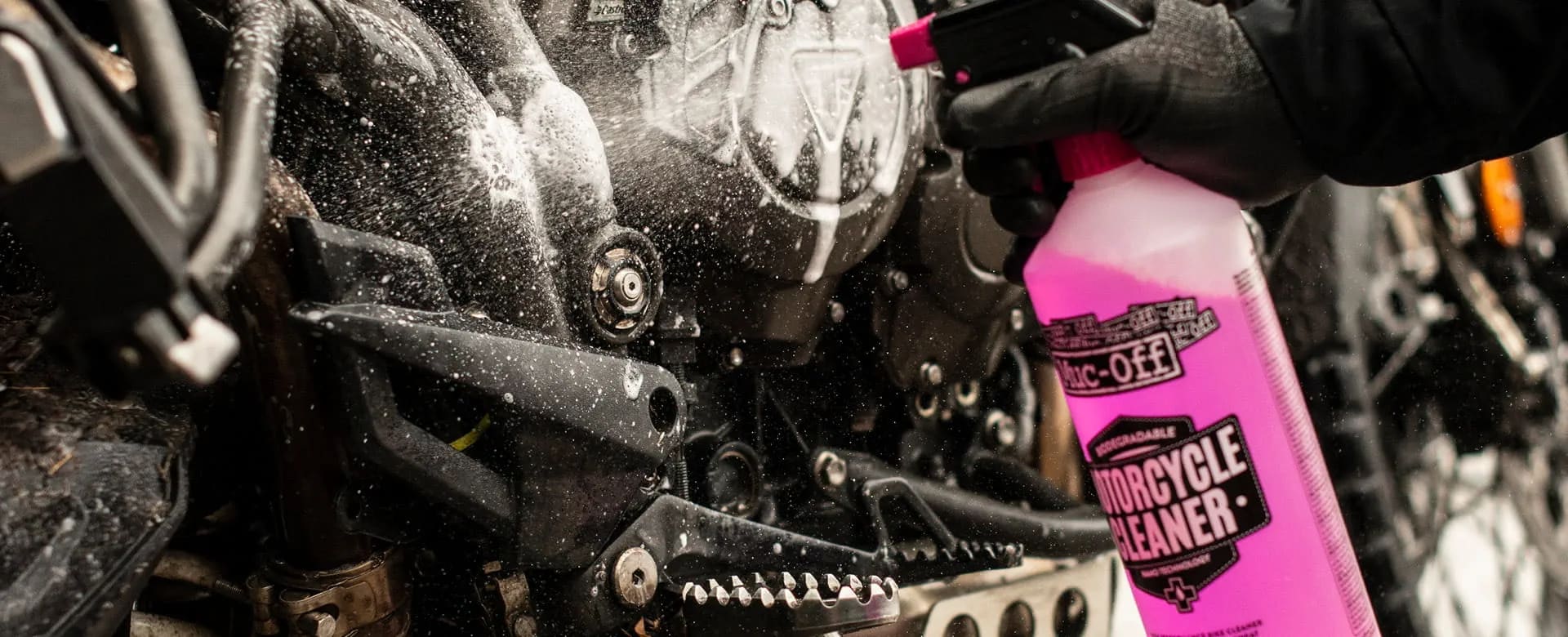 MOTORCYCLE DEGREASER
Rapidly eliminates oil, grease and grime across metal, plastic, rubber, and seals. Its "water soluble" formulation allows it to be quickly rinsed away with even the toughest of dirty residues, leaving your bike parts completely clean. 500ml spray can.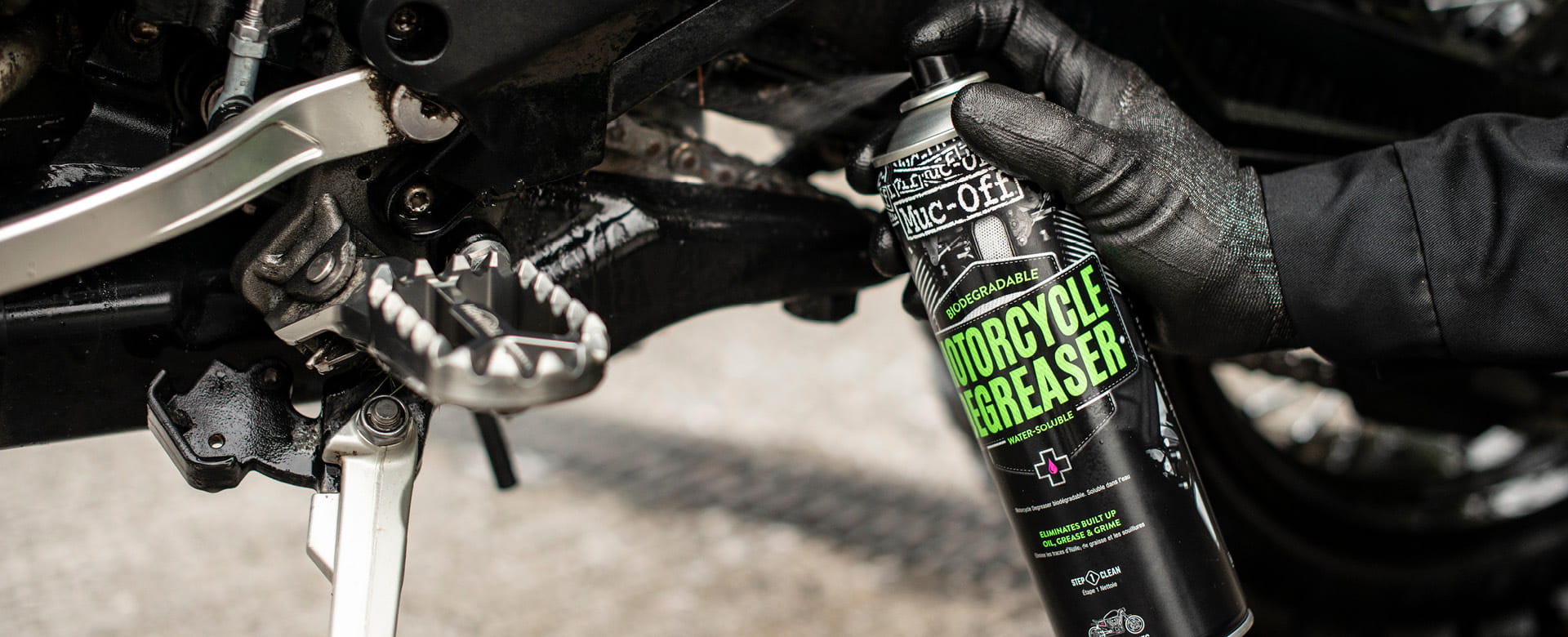 MATT FINISH DETAILER
Specifically developed for satin matt paints, matt finishes and matt vinyl graphics, this is a premium-grade formula that will leave any surface streak-free; plus, its protective layer helps reduce subsequent dirt adhesion. 750ml spray bottle.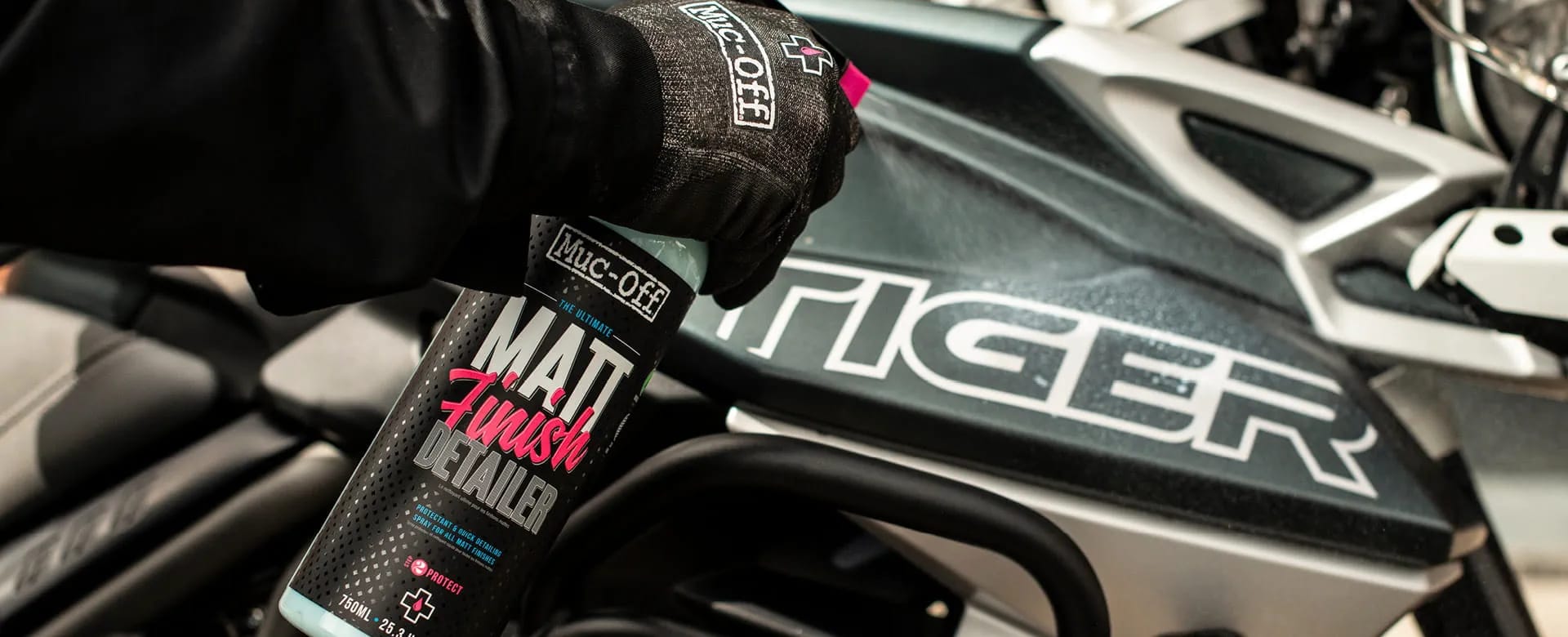 MOTORCYCLE PROTECTANT
An all-round protectant, this is an after-wash corrosion inhibitor that is quick and simple to use and which drives out moisture, leaves a non-sticky protective layer, and prevents dirt adhesion between washes. 500ml spray can.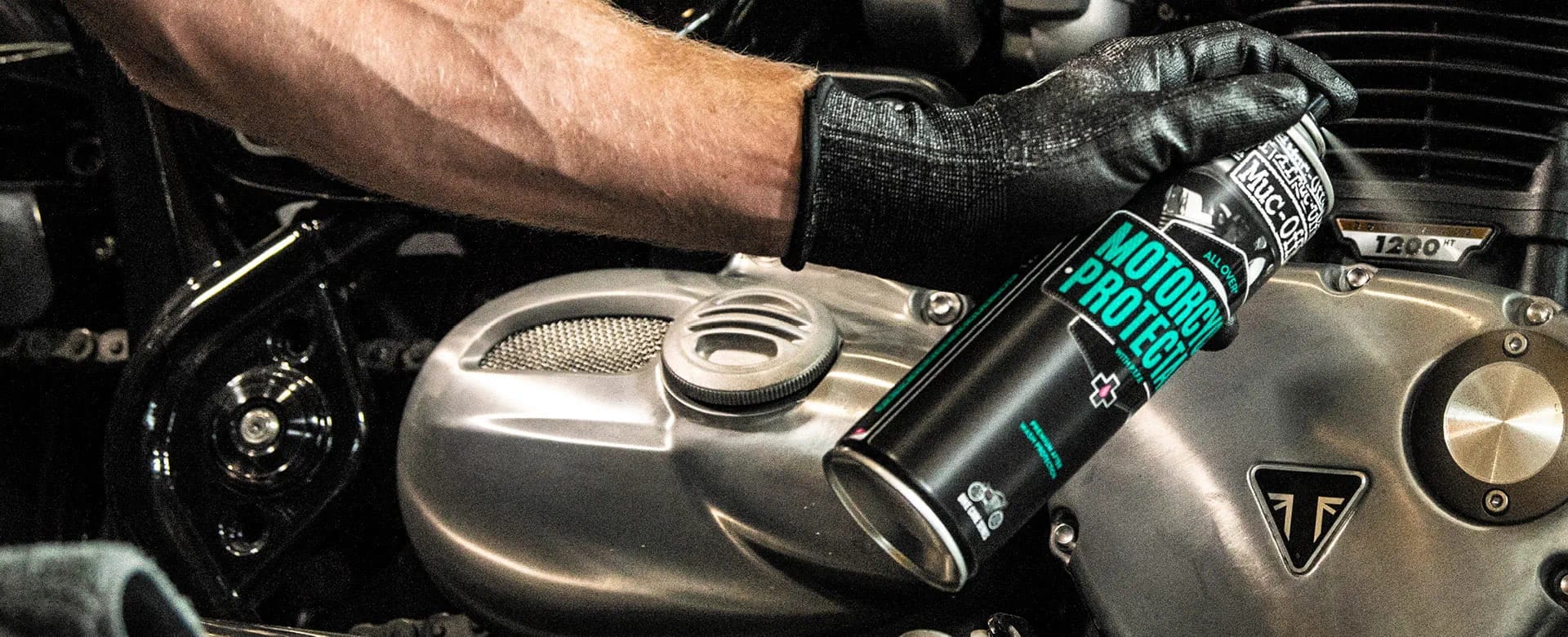 ALL-WEATHER CHAIN LUBE
Longer intervals between applications, with greater protection for your chain. The high performance synthetic formulation creates a durable protective coating which guards against corrosion and metal-metal wear, plus a UV dye so you can easily check coverage. 400ml spray can.

WARNING: Never wax or lubricate the brake discs. Loss of braking power and an accident could result. Clean the disc with a proprietary brand of oil-free brake disc cleaner.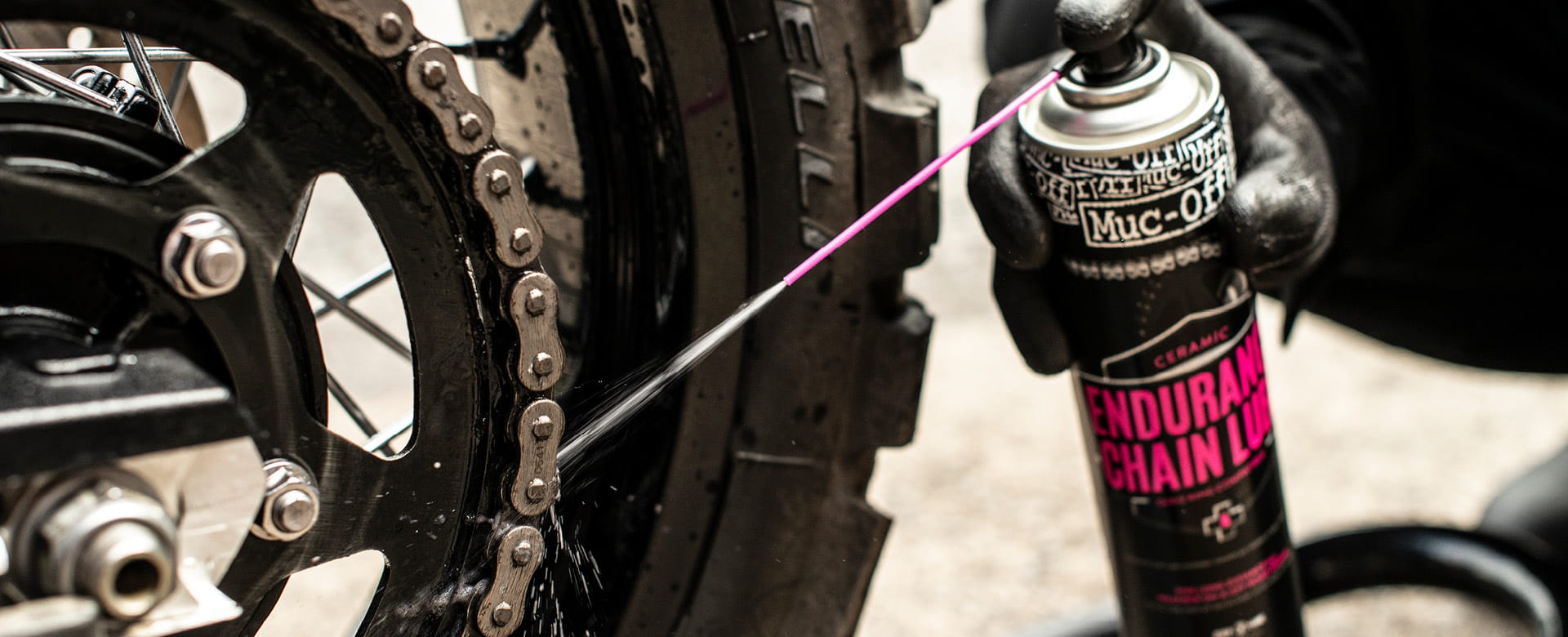 ACCESSORIES
MICROFIBRE CLOTH - The 'split-fibre' technology vastly increases surface area absorbency and traps dirt deep in the cloth's pile to easily eliminate smears and blemishes.

MICROCELL SPONGE - A premium quality sponge, contoured to an ergonomic shape for maximum comfort and surface area cleaning.
24-MONTH WARRANTY
A Triumph 24-month Warranty gives you peace of mind and the added reassurance in the unlikely event of something happening to your bike we have you covered.*
*Subject to terms and conditions.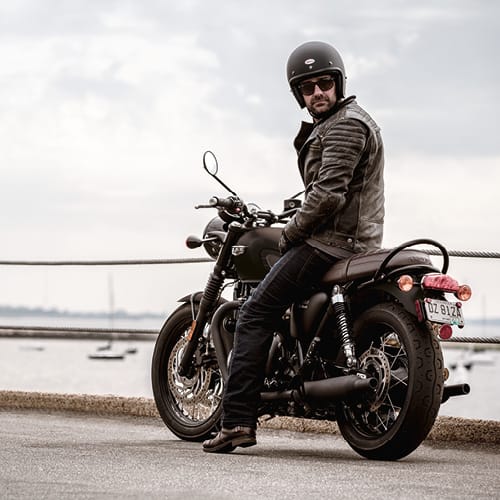 ROADSIDE ASSISTANCE
Triumph Assist is a breakdown assistance package developed by Triumph and the RAC which has been designed specifically to give you peace of mind and help when you need it the most. It includes different levels of cover to ensure you're looked after if the unexpected were to happen in the UK and on the continent.
TRIUMPH INSURANCE
Triumph Insurance offers you the reassurance of being protected by one of the UK's top motorcycle insurers; an insurer who looks after you when you need it.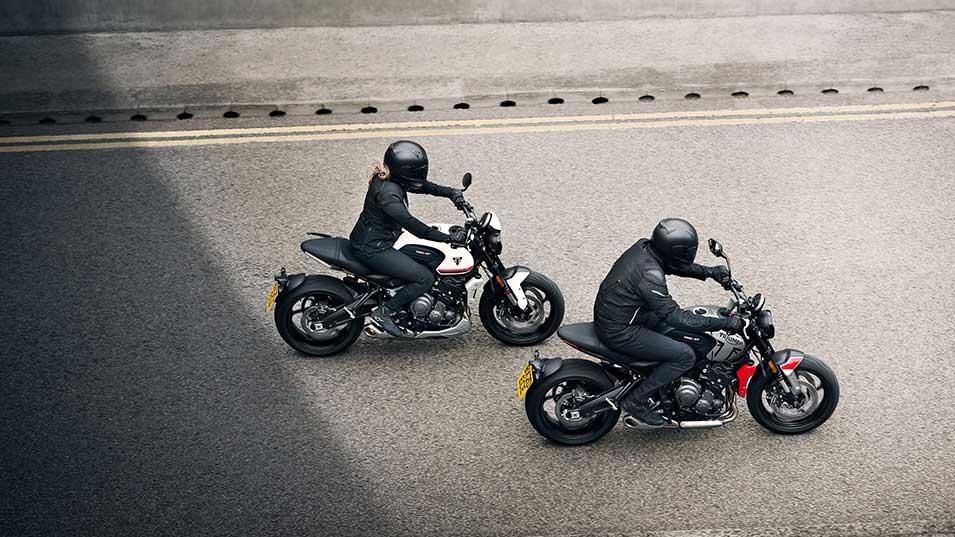 OUR PROMISE TO YOU
Transparent Service Pricing
Motorcycle Health Check
Motorcycle Software Update
Safety – Recall Check
Triumph Trained Technicians
Regular Status Update
Service While You Wait
Alternative Transportation
Genuine Triumph Parts and Accessories