Motorcycle Safety Checks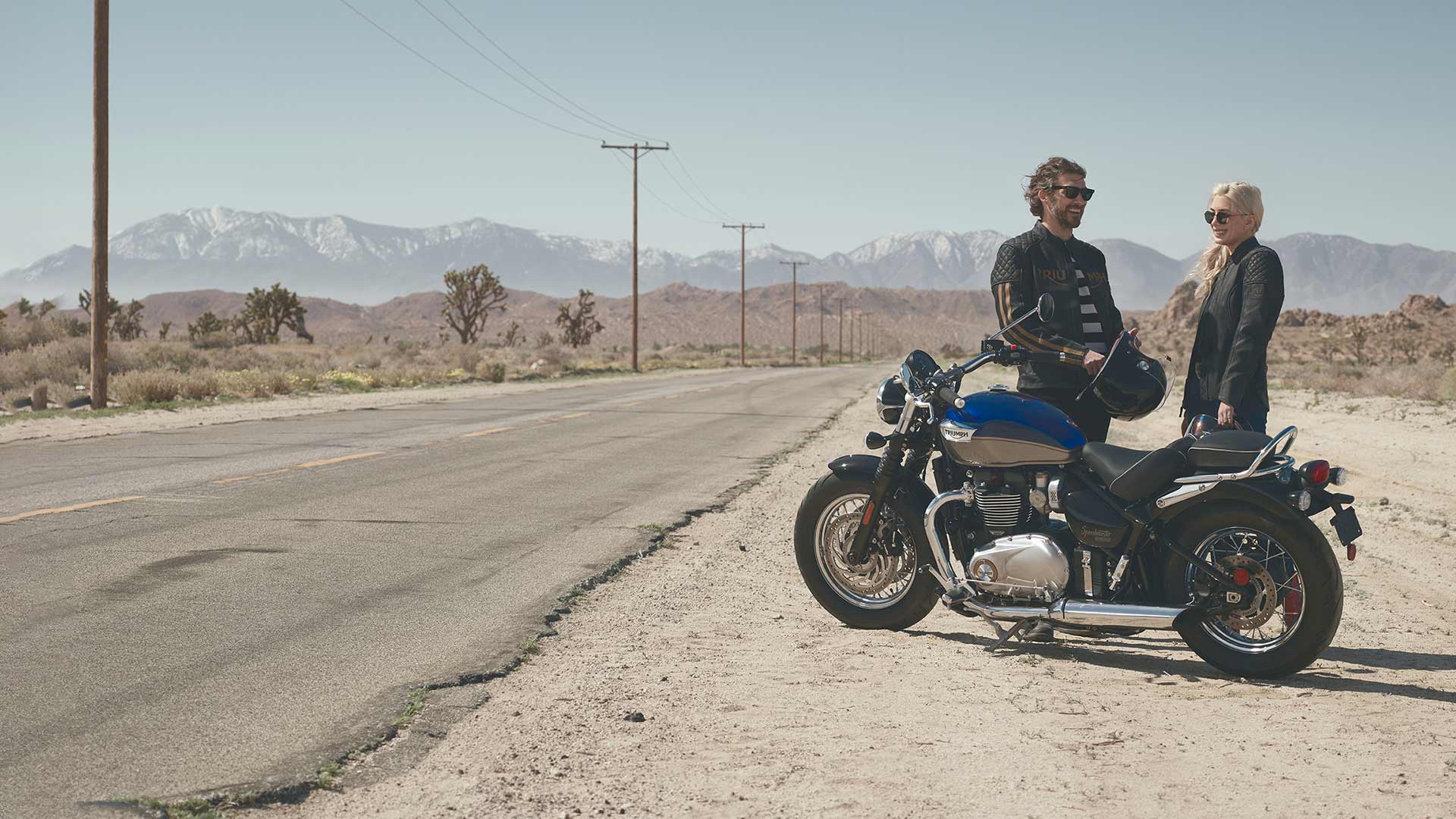 Before you set off on your next adventure, however big or small, making sure that you have made all the necessary bike checks is essential to ensure the best experience possible.
Keeping up a regular maintenance review of your motorcycle and booking scheduled servicing will help keep your motorcycle in tip top condition.
Taking the time to check over your bike before and after each ride will improve safety and your riding enjoyment.
Here is a list of to-dos before starting the ignition.
BRAKES
Inspect your motorcycle's brake disks and hardware, making sure there is plenty of pad and the rotors aren't warped or grooved.
ELECTRICS
Check to make sure that your battery is charging correctly; the easiest way to do this is to check that the headlight gets brighter as you rev the motor.
ENGINE OILS AND FLUIDS
Make sure that the oil level is within the parameters of that stated in your Owners Handbook.
Check the clutch fluid and coolant level (on liquid-cooled bikes) and top off if necessary – referring to the Owners Handbook for guidance.

Lighting
Make sure you can be seen, and can see others, by checking that your lighting and mirrors are working as expected, and if necessary, give them a wipe to clean off any dirt and debris.
Luggage
Make sure that you don't over pack your luggage, so it doesn't creep over the maximum recommended weight – if in doubt, check your Owners Handbook.
You can access and download a copy for free from this website.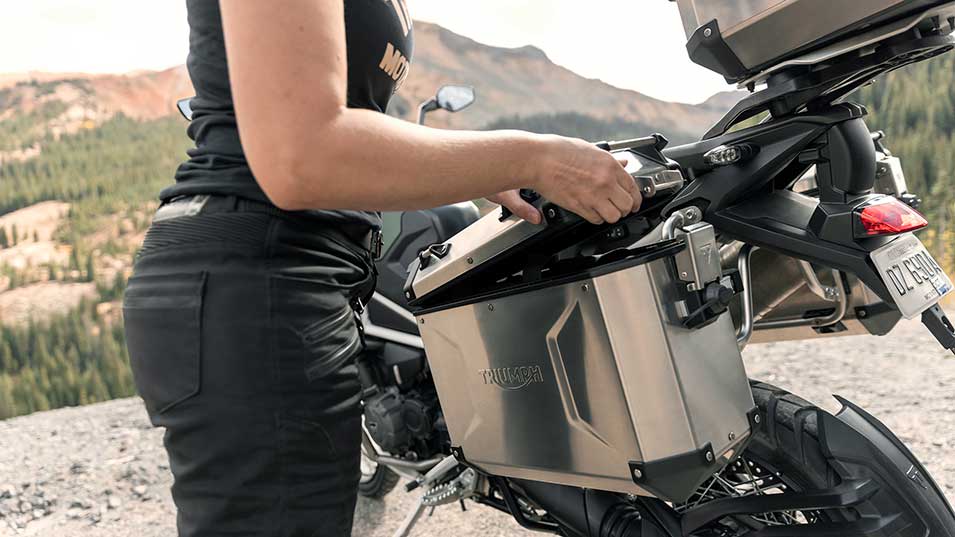 Even distribution of weight about your motorcycle will ensure maximum stability and control, so take it into consideration when packing for a ride out.
Carrying containers of liquids will affect balance, due to dynamic movement of fluid, it is therefore advisable not to pack these in your luggage.
Finally, once you have finished attaching and packing your luggage, you should check that it is securely attached and does not interfere with any moving parts or controls, tail, braking, indicator lighting and rearward facing radar (if fitted).
Tyres
Check your tyre condition to spot any cracking, bulges or lack of tread - refer to your Owners Handbook to confirm maximum mileage, pressure requirements etc.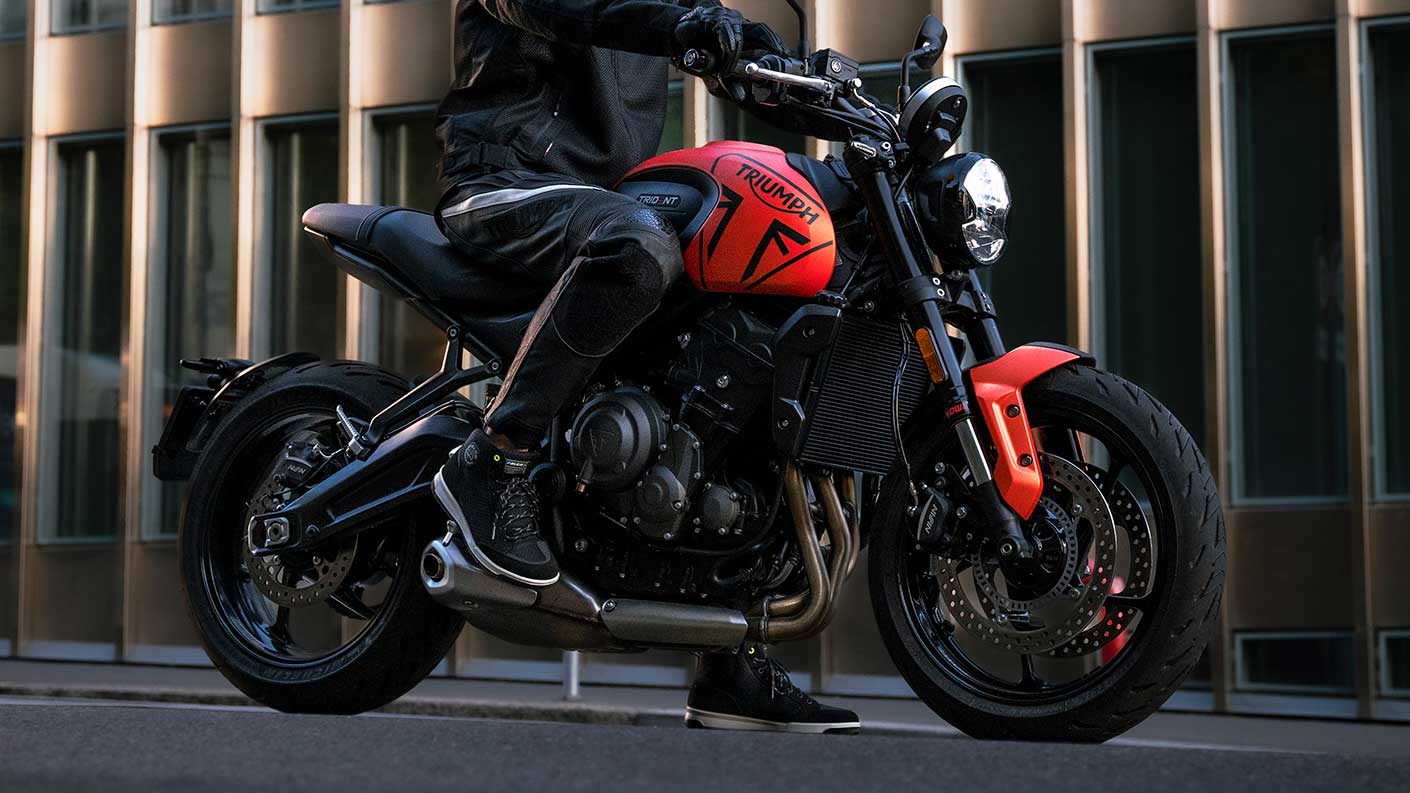 Wheels
Check over wheels to spot any signs of damage. If you have wire spoked wheels check for missing or loose spokes as these can lead to a warped wheel if not fixed.
Should you need any assistance in checking over your bike before you go touring, please contact your local Triumph dealership.