WORLD'S FASTEST
ISLE OF MAN TT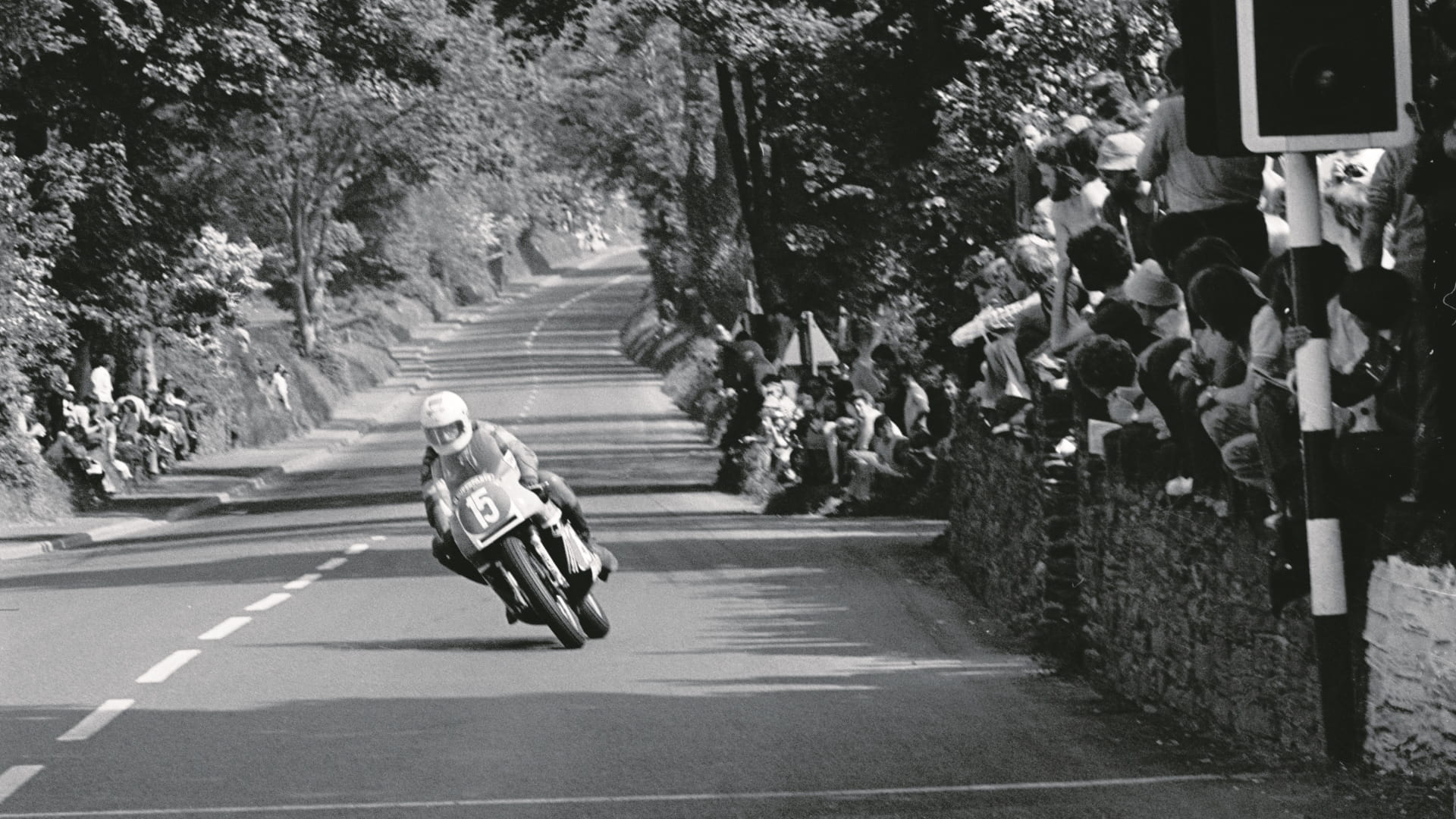 Image Source: Mortons Archive
Driven by passion and a burning desire to be number one, the Bonneville Thruxtons, Tridents, Daytonas and the names of their fearless riders are forever entwined with the history of this iconic venue.
Some of the same men, machines and feats of engineering that lit up the Mountain Course, arguably one of the most punishing on earth, have also powered Triumph on to the British and World Supersport scene.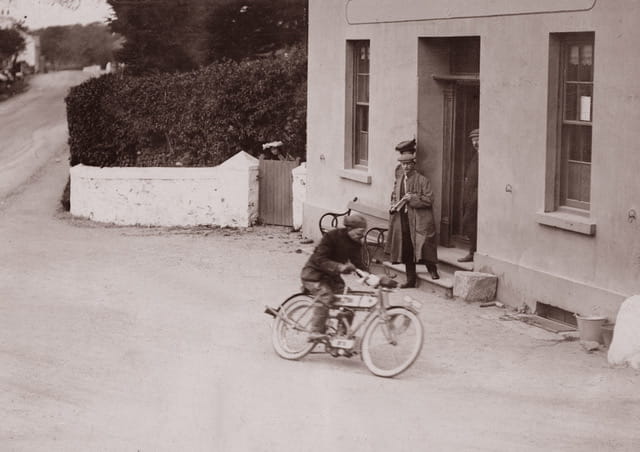 1907 – MARSHALL AND HULBERT: THE LEGACY
When Jack Marshall and Frank Hulbert raced away from the dust-laden first TT course line in 1907, they were kick-starting more than a century of Triumph tradition.
Image Source: FoTToFinders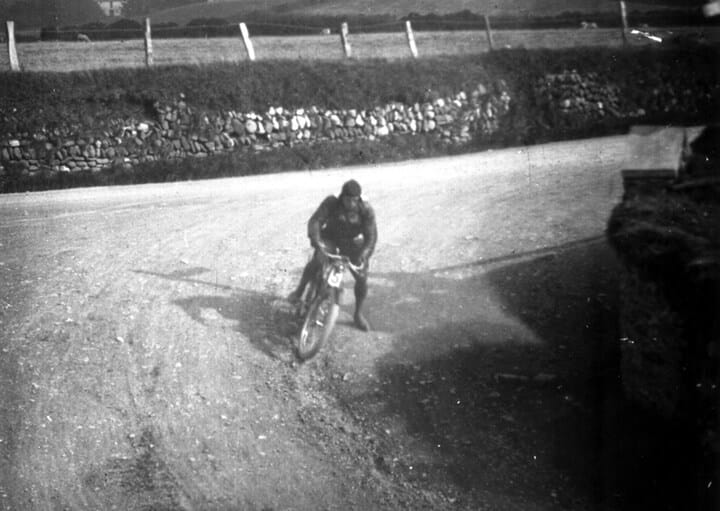 Marshall, born minutes from Triumph's Coventry factory, took the lead when Hulbert stopped to change a plug and continued to the end, only finishing second after suffering a badly twisted ankle in a fall. Countless brushes with local traffic and sheep in that inaugural race led to the introduction of course marshals; a tradition that continues today.
The following year, Marshall returned on what was possibly the world's first purpose-built racing bike and led the way in a race dominated by Triumph. Sales of Triumphs soared in the wake of the victory and the stripped-down, single-speed sports model TT Roadster was quickly added to the range.
Image Source: Mortons Archive
DID YOU KNOW?
Admiral Sir Robert Keith Arbuthnot rode his Triumph in the 1908 Singles TT, where he finished third. Both Arbuthnot and his bike were sunk and lost in the battle of Jutland in 1916.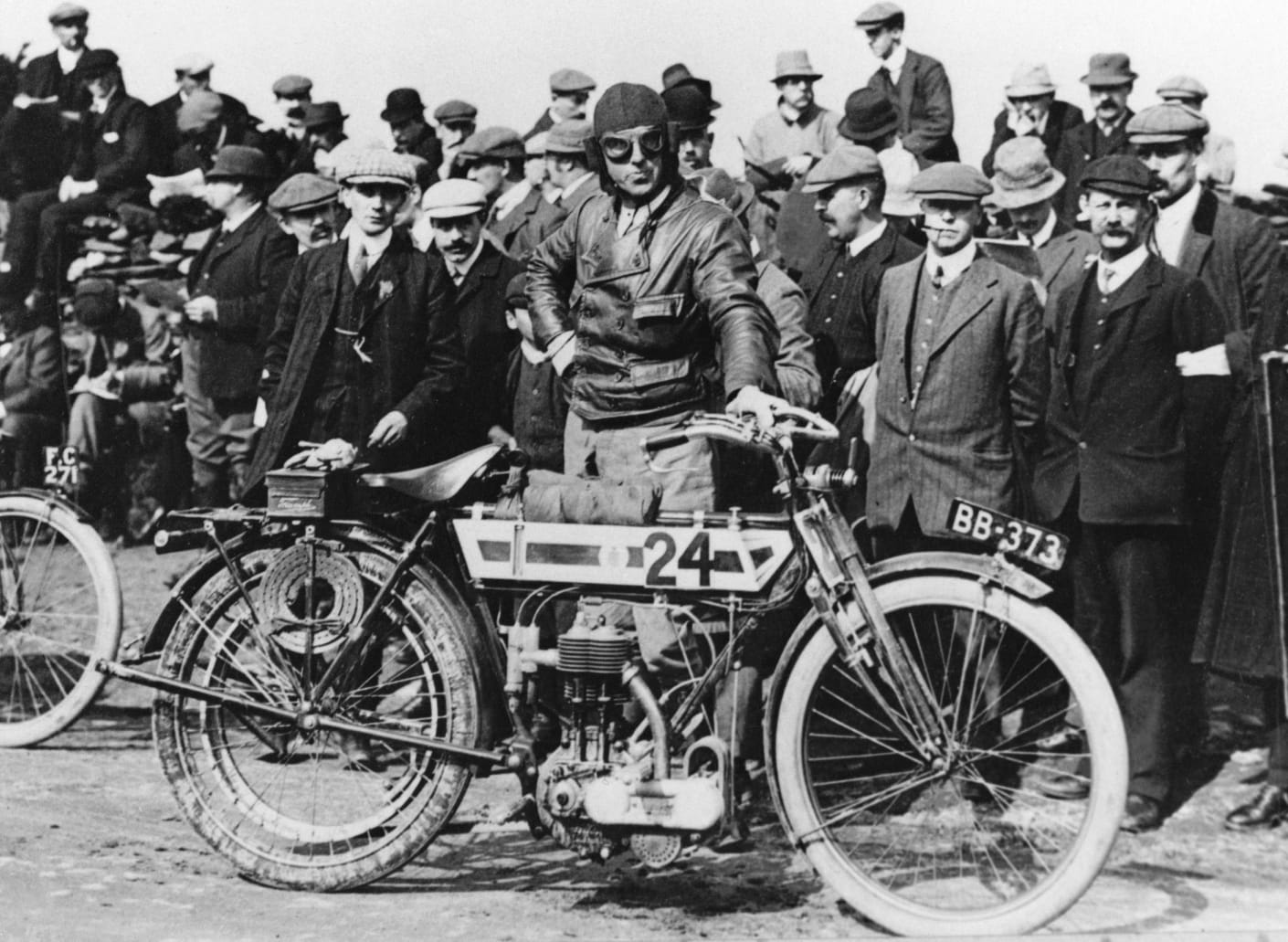 Image source: FoTTofinders
1940s – LYONS HEART
The era of Chief Designer Edward Turner – the man behind some of the 20th century's most iconic Triumphs – and his talented Experimental department couldn't have come at a better time for racer Ernie Lyons.
The Kildare Demon was on the brink of making his name in 1939, after a promising win in the 500cc Class of the North West 200, when the war intervened and put his career on hold. Fate would play her part after the hostilities seven years later and his persistence landed him the chance to challenge in the Senior race on a prototype Triumph.
Not even blinding fog and driving rain could stand in his way as he became the first rider to steer a twin-engine motorcycle to glory at the TT in front of a crowd still believed to be the largest in the event's history.
The 493cc Triumph Twin, which averaged 76.74mph despite the conditions, would go on to become the prototype for the legendary Triumph Grand Prix factory racers in 1948.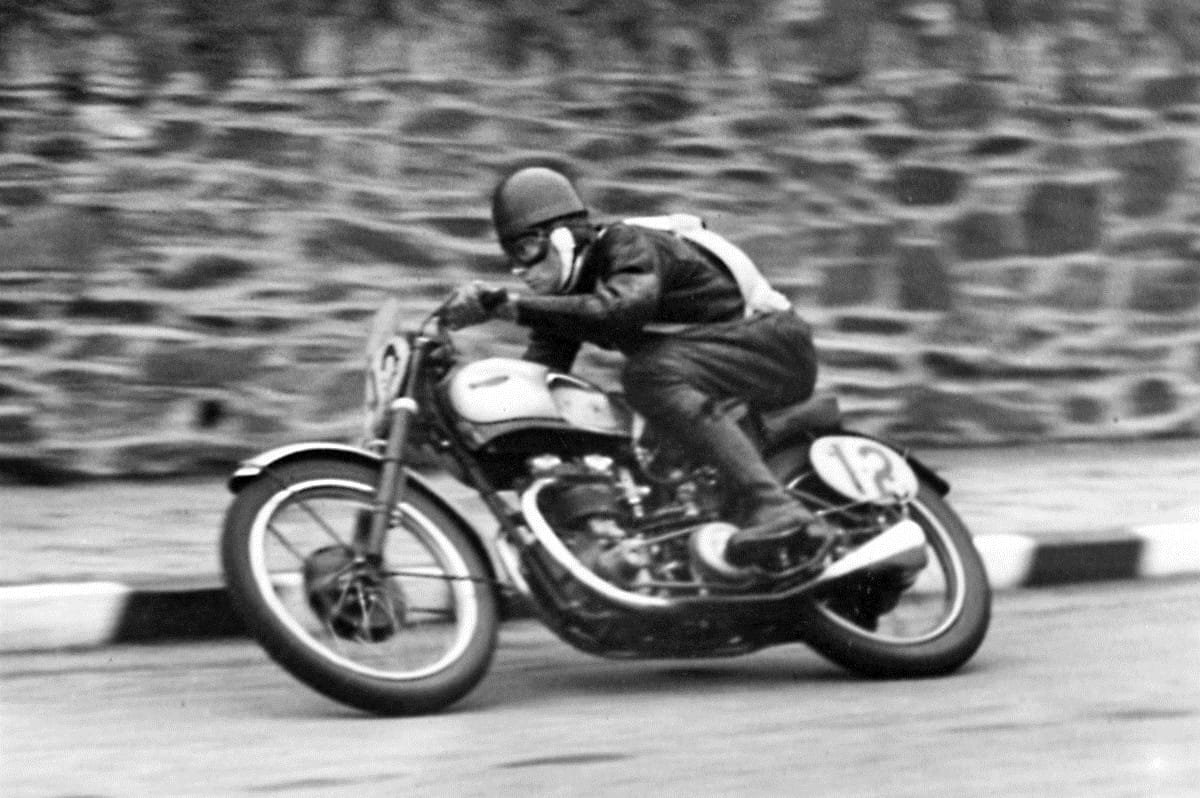 Image Source: Mortons Archive
1969 – SUCCESSFUL STREAKS
Malcolm Uphill won public acclaim and a place in the history books in 1969 when he took a Triumph Bonneville Thruxton around the TT at 100mph to set the first 100mph production bike lap. But it nearly didn't happen.
His success in the 750 Production class – which earned him £50 in prize money and a transistor radio – was essential to Triumph's continued presence in Production racing.
The following year Uphill won again in the same category, this time on a tuned three-cylinder 750cc Trident. The Slippery Sam Triumph Triple era was about to begin.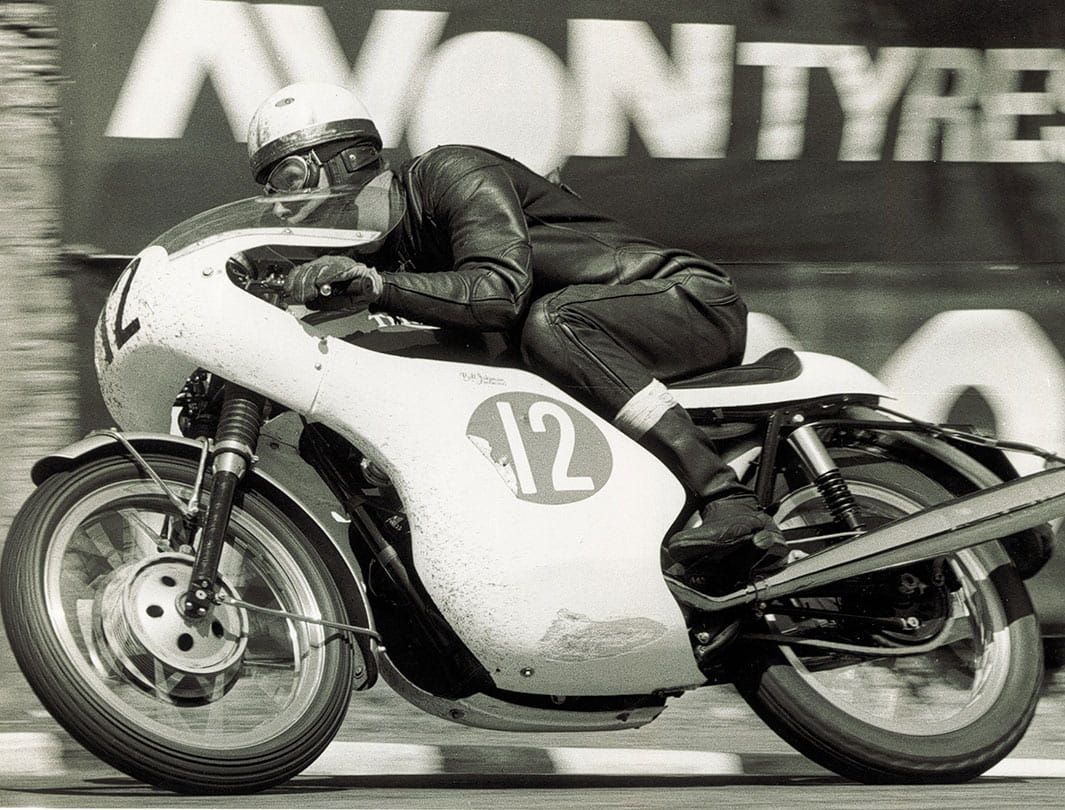 Image Source: Mortons Archive
1970 – SLIPPERY SAM
Slippery Sam – in fact one of three Tridents built by Triumph for the 1970 TT – roared to first place at the TT beneath Uphill.
The bike's beginning wasn't quite so auspicious but gave it it's famous name: engine issues and a deluge of oil midway through the Bol d'Or 24-hour production bike race in France left the team drenched but relieved to still finish fifth. Sam's title-winning riders, in an incredible five consecutive Production 750 class race wins between 1971 and 1975, included seven-time TT legend Mick Grant.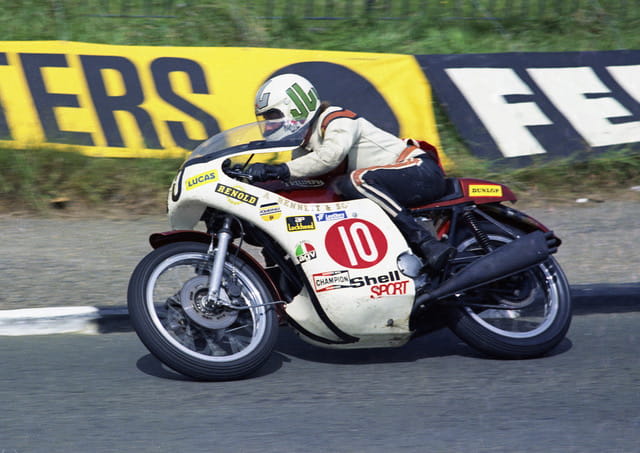 Image source: FoTToFinders
The iconic motorcycle was badly damaged in a 2003 fire at the UK's National Motorcycle Museum but has since been completely rebuilt.

2003 – BACK ON TRACK
New Zealander Bruce Anstey sent a resounding message to the racing world when his Daytona 600 romped to first place in the 2003 Junior TT, finishing 10.96 seconds ahead of his nearest rival and recording the fastest Supersport TT time of 1:15.13.98. He was joined in the top 10 by two other Triumph ValMoto teammates. After a 28-year absence, Triumph was back.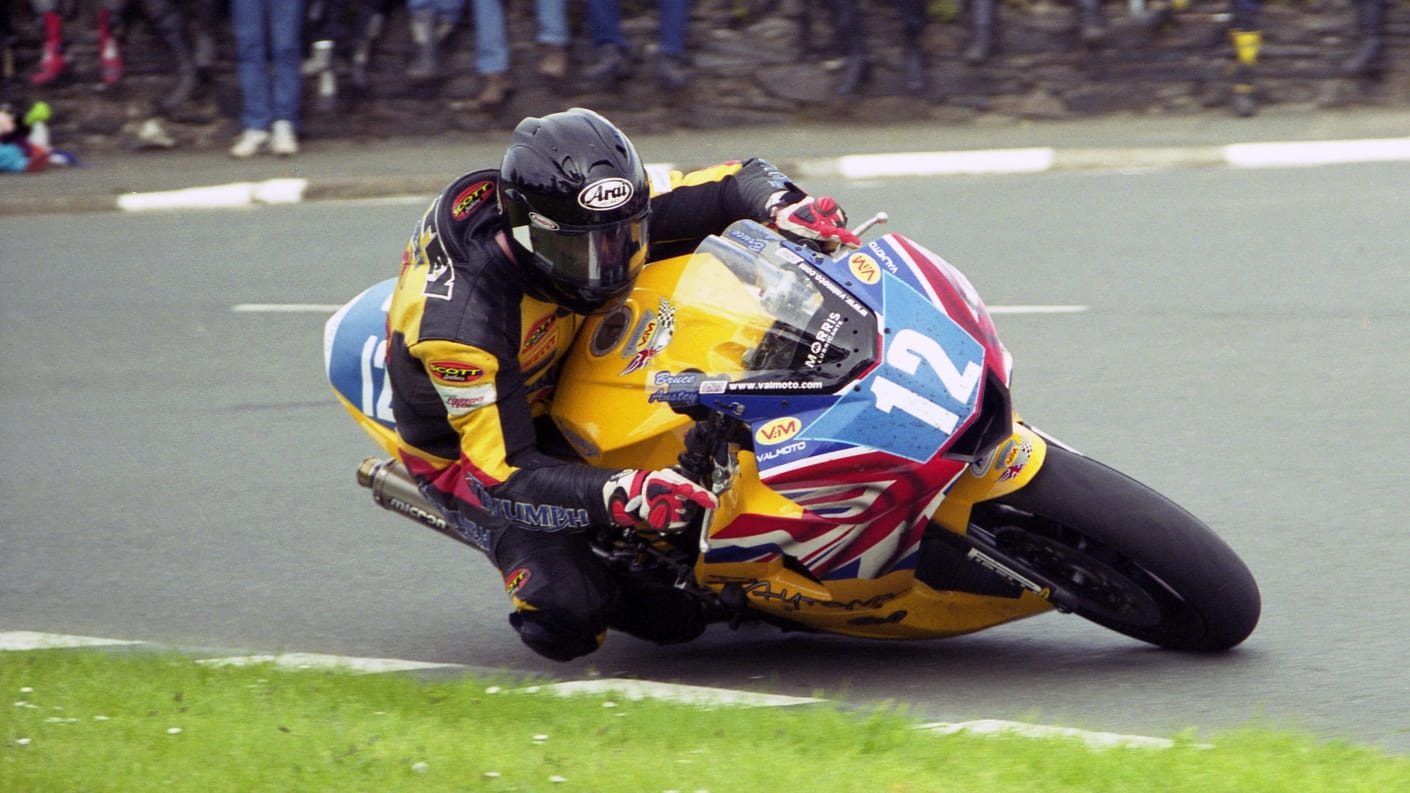 Image source: FoTToFinders

2014 – INTO THE FUTURE
Eleven years after Bruce Anstey signalled Triumph's intent he was back at the TT, this time pressing Triumph's latest hero, Gary Johnson, all the way to a memorable win.
The pair were involved in a last lap battle royal, but Johnson clinched his second TT win after Supersport 600 success three years before. He led from the start in the wet on a Smiths Racing Daytona 675R to edge home by 1.5 seconds.
Johnson said: "Blokes like Jack and Ernie raced when roads were far inferior and they were still travelling at speed. They were bigger men than we are who led the way in establishing Triumph as a builder with a strong racing pedigree."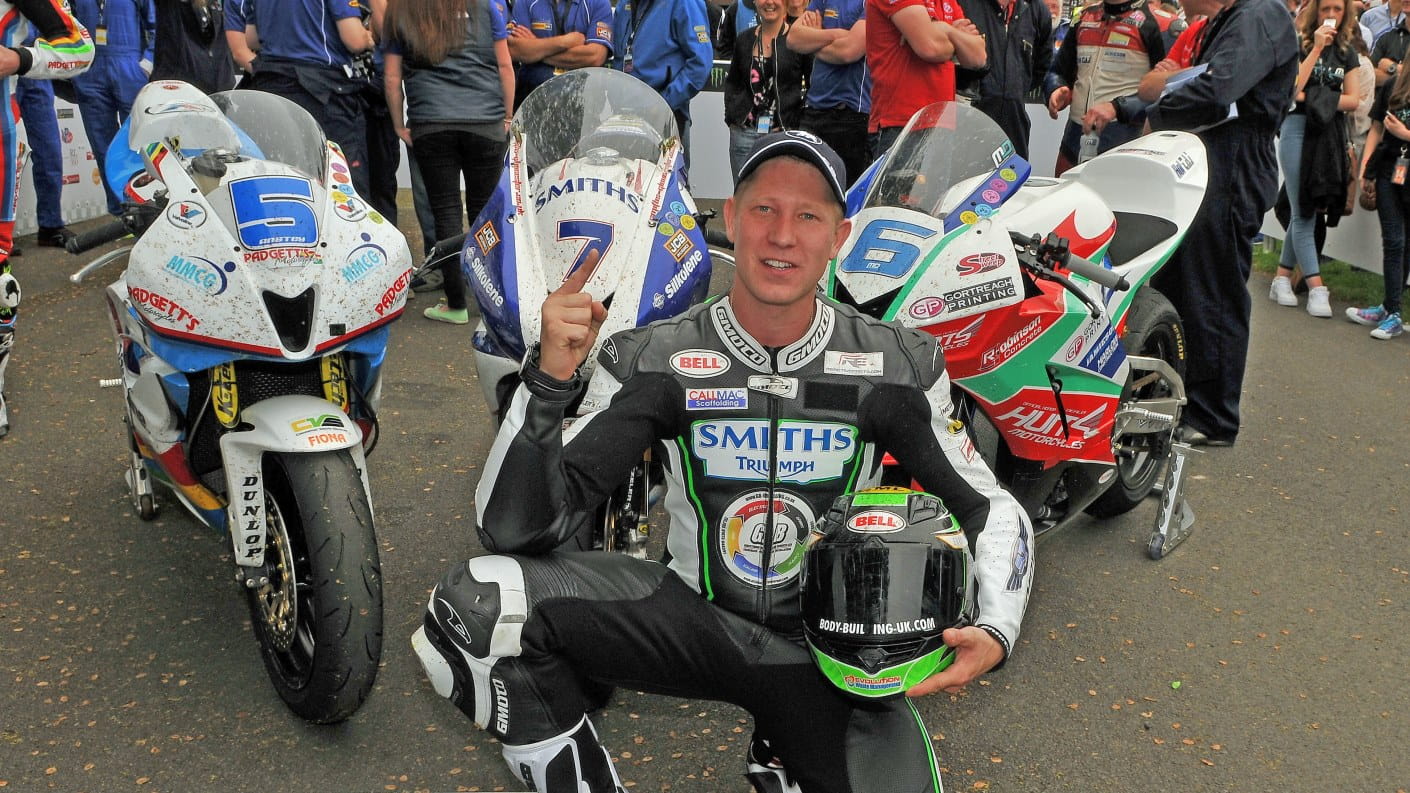 race winning. record breaking. history making.
Landspeed
Isle of Man TT
Daytona 200
Track - Supersports
Track - MOTO2
Ama Grand National Flat Track
Daredevils
Landspeed
Isle of Man TT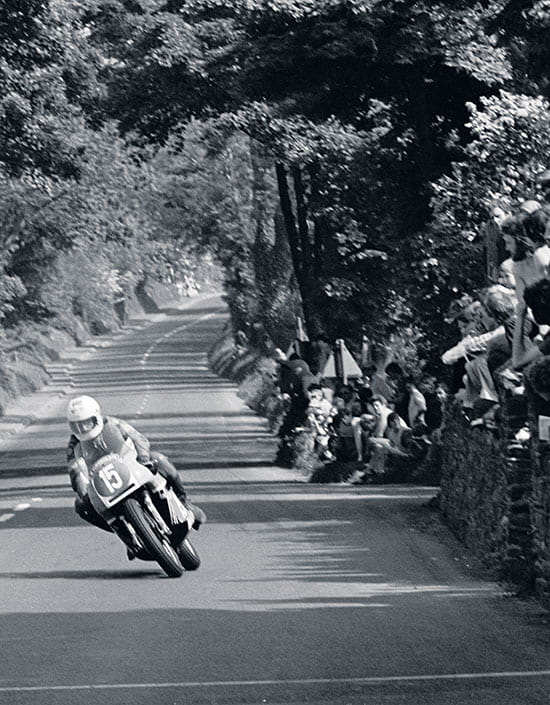 Image Source: Mortons Archive
Daytona 200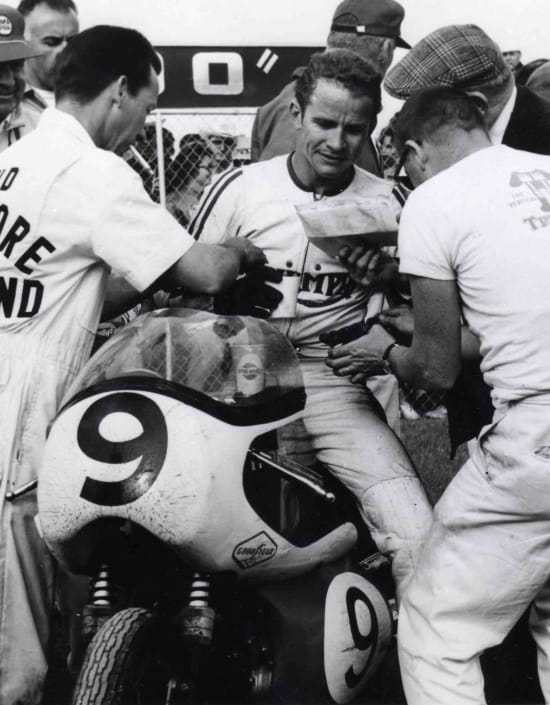 Image Source: John Nelson Archive
Track - Supersports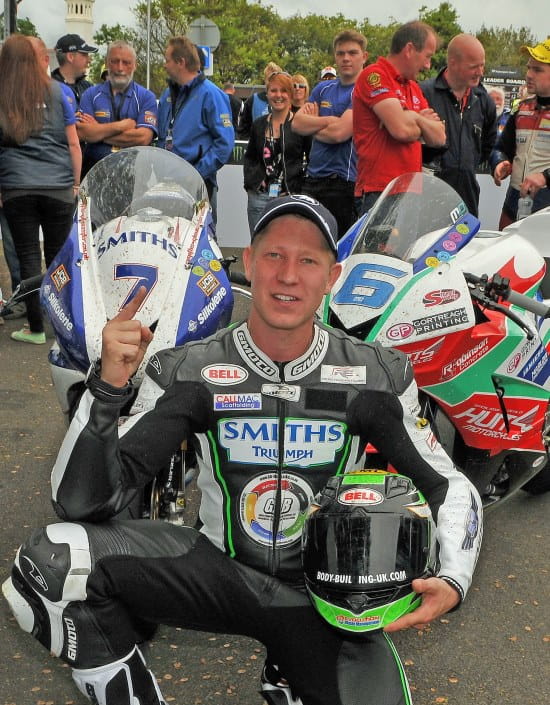 Track - MOTO2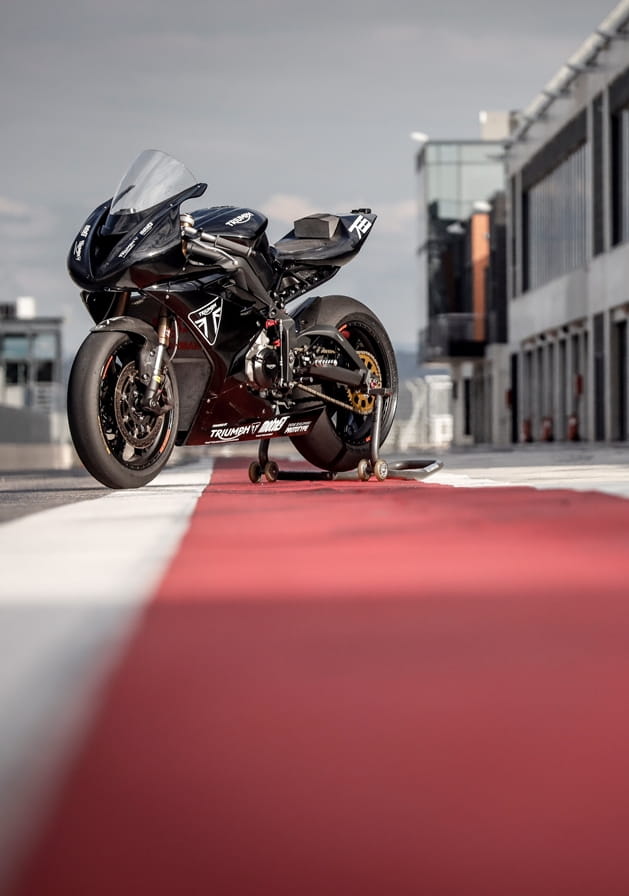 Ama Grand National Flat Track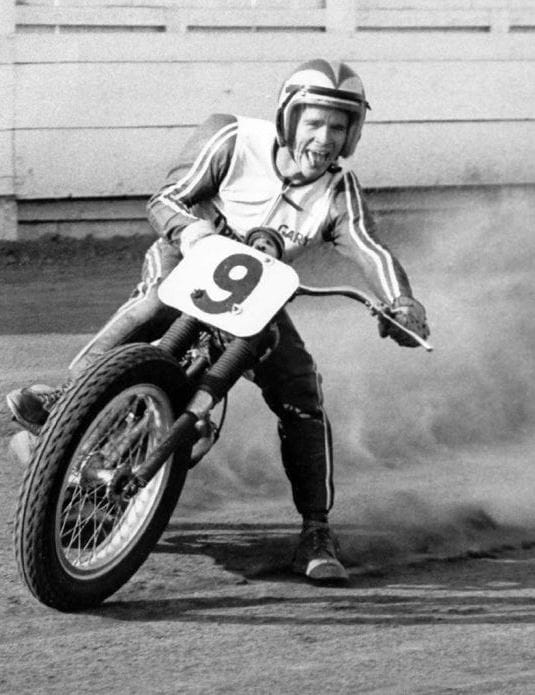 Daredevils