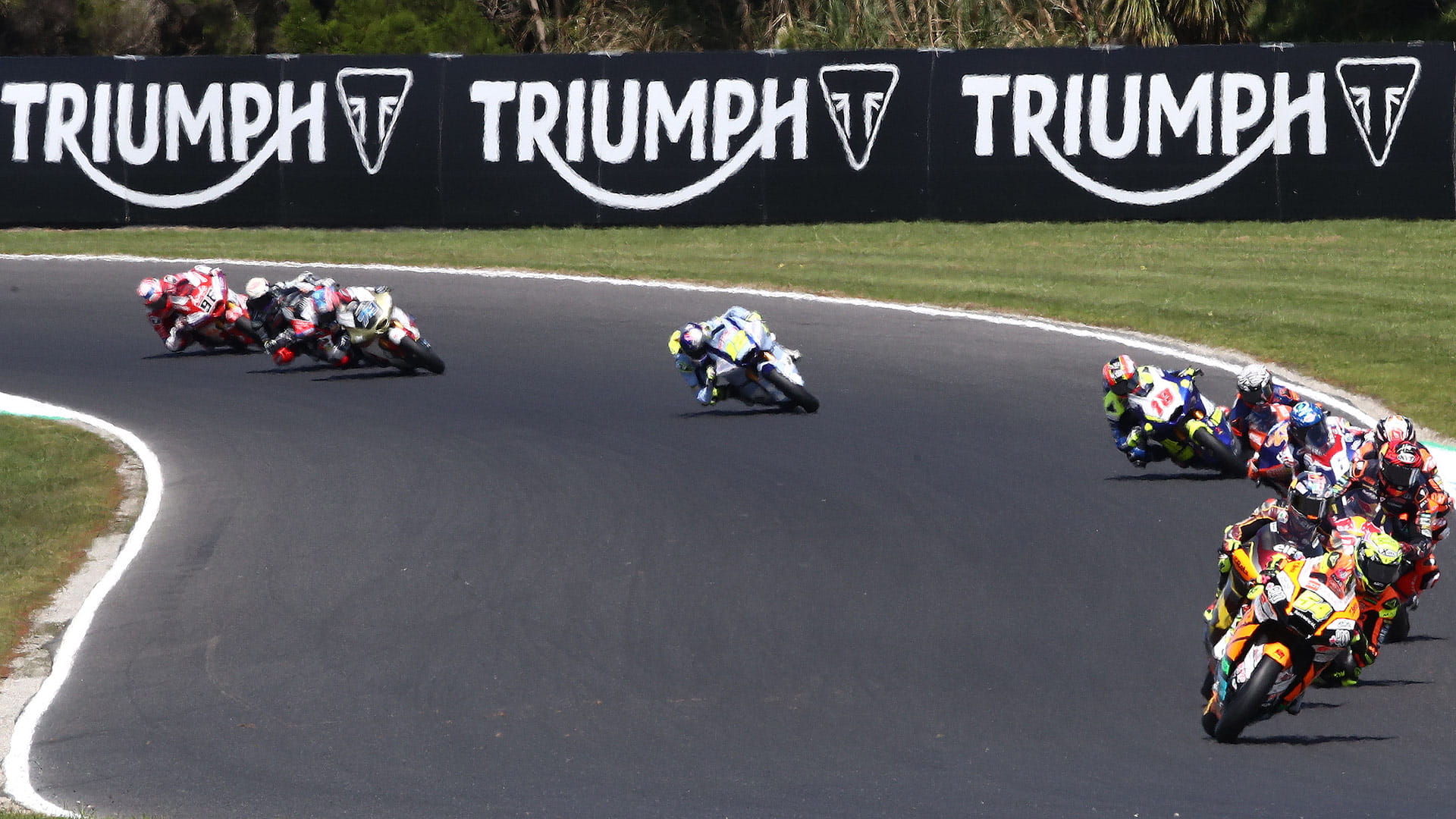 As the exclusive engine supplier to the FIM Moto2™ World Championship, Triumph Motorcycles provides all the teams with race-tuned 765cc triples, each of which is based on the class-leading Street Triple RS powerplant. With developments that allow the engine to breathe more freely, and rev harder, peak power output is more than 140PS (an increase of more than 17% over the production bike).
Recognising the closeness of competition and the depth of talent in Moto2, Triumph and Dorna also run the Triumph Triple Trophy alongside the World Championship.
Recognising standout performances throughout each weekend, points are rewarded to riders setting the fastest top speed, pole position and the fastest lap of the race.
The 2023 Moto2 season marks the start of Triumph's fifth season powering Moto2 as Exclusive Engine Supplier. During this time, the Triumph 765cc triple powerplant has redefined the category, setting lap record after lap record and helped supercharge the next generation of MotoGP superstars.
With a number of developments made by Triumph to the 765cc triple, in 2023 the engines are now producing more power right through the rev range, all the way to a higher 14,400rpm limit (increased by 400rpm), to deliver better performance and acceleration.

More power and engine speed required stronger engine components, so pistons have a higher-grade material and rods, crank valves and springs are all new. Higher flow inlet ports and revised cam profiles enable an increased mixture flow into the combustion chambers and cylinder pressure and compression have been increased.

All this gives the riders more when it comes to lines and race craft, leading to more opportunities for overtaking and even better racing.
TRIUMPH MOTORCYCLES EXTENDS PARTNERSHIP WITH MOTO2™
Triumph Motorcycles has signed a new contract to continue as Exclusive Engine Supplier for the FIM Moto2™ World Championship for another five seasons, from 2025-2029.This will see Triumph powering the Moto2 teams for a decade, enabling riders and teams to thrive and develop using its record-breaking 765 triple engine.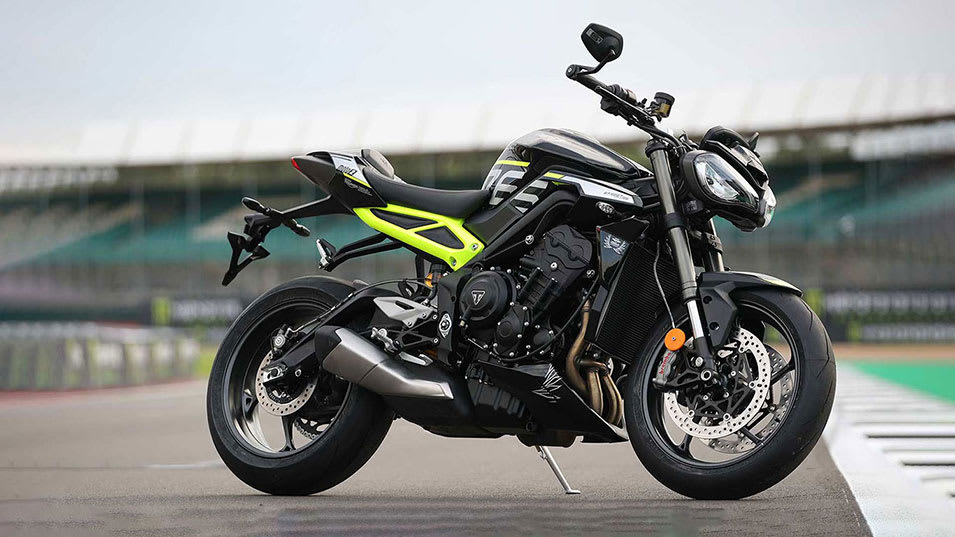 STREET TRIPLE Moto2™ EDITION - FIRST RIDE VALENCIA
GP legend Randy Mamola and the motorcycle media get up close and personal with the new Street Triple Moto2™ edition at the Circuit Ricardo Tormo in Valencia.
Pedro Acosta wins in the Grand Prix of Valencia and Augusto Fernandez takes the 2022 World Championship.
The new Moto2 World Champion finished second though sealing the title in style. His teammate Acosta took the race victory and it was last race winner Tony Arbolino who took the 3rd step on the podium in this dramatic season finale of what has been an incredibly close competition.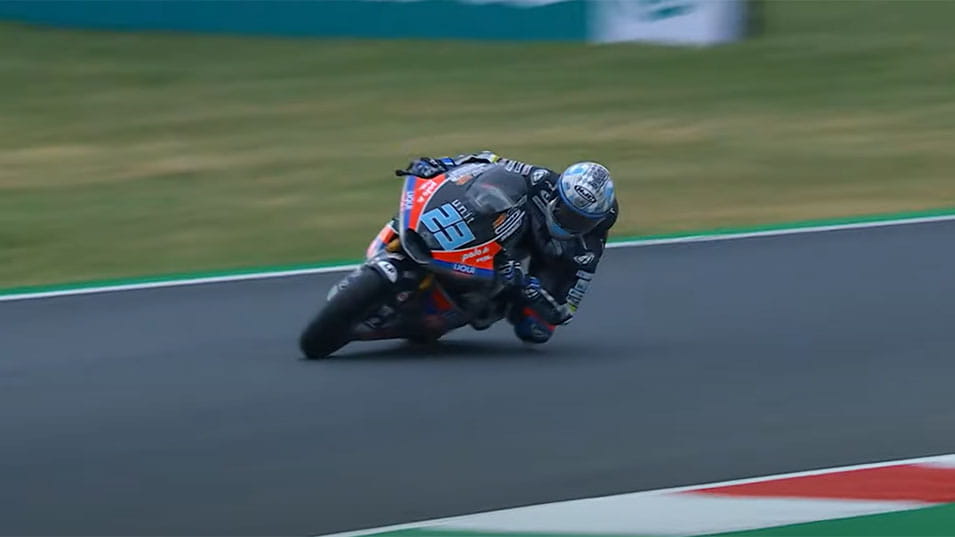 Triumph Triple Trophy
Going into race day, there were two riders still in contention for the Triumph Triple Trophy, Jeremy Alcoba and Celestino Vietti. Alonso Lopez scored six points for his record-breaking pole lap in Saturday's qualifying and there were just points left to score for best race progression and fastest lap.
This meant Jeremy Alcoba still topped the Triumph Triple Trophy table after scoring top points for best race progression an impressive six times this year, making up over 10 places in four of those.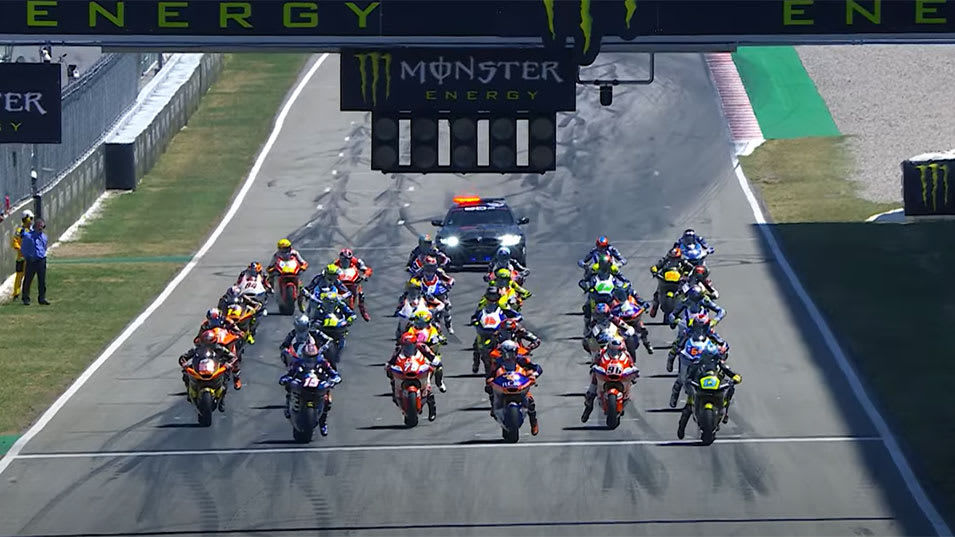 The 2021 Moto2 World Championship season was another record-breaker. As the Triumph 765cc triple continued to redefine the class with another 16 new race lap and outright lap records, the remarkable Raul Fernandez set a new record of eight victories in a rookie season on his way to winning the Triumph Triple Trophy. In a show of gratitude, he gave the award of a custom-liveried Street Triple RS to his father in thanks for all he's done to support Raul's career.
After the third thrilling season of Moto2 powered by Triumph, it was Remy Gardner who took the 2021 World Championship crown at the last round by just four points.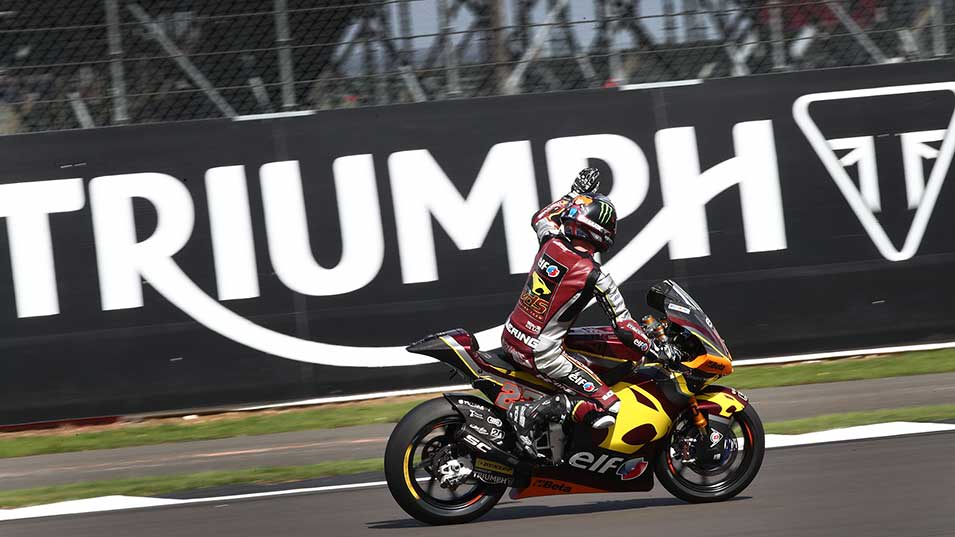 Eight lap records were broken in 2020, with seven different Moto2™ Grand Prix winners. Eleven new outright circuit lap records set, smashing the benchmarks already redefined by Triumph 765cc triple power during 2019.

A new World Champion in Enea Bastianini, crowned from a title fight that went to the very last race of the season and where Luca Marini and Sam Lowes in second and third finished tied on points. Over 200,000 kilometres of flat-out racing over a condensed season of 15 rounds, 14 of which (with the exception of the opener in Qatar) were squeezed into just four relentless months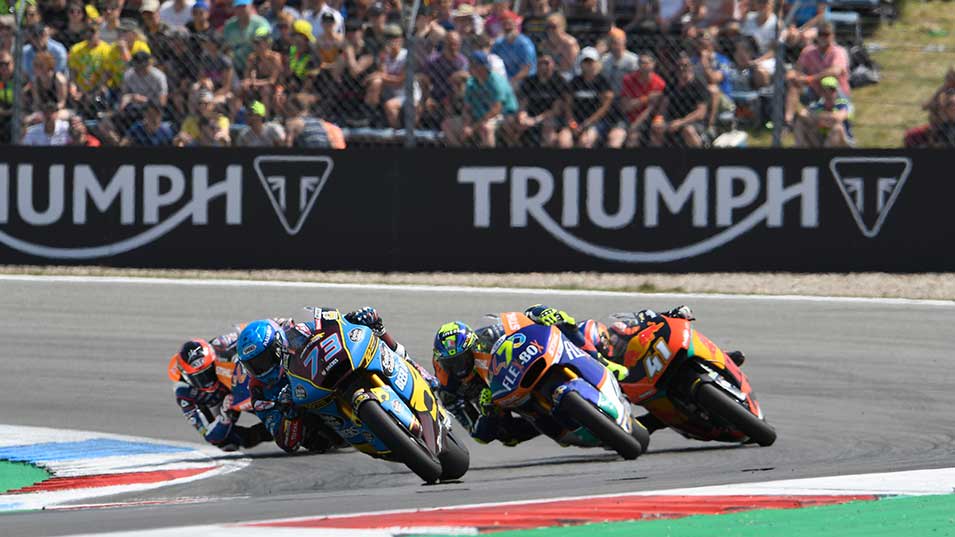 Triumph's inaugural year was a record-breaking debut: 16 circuit lap records and 18 circuit top speeds were claimed from the 19 races, as well as the first ever +300km/h Moto2™ top speeds. The Triumph 765cc triple powerplant redefined the class.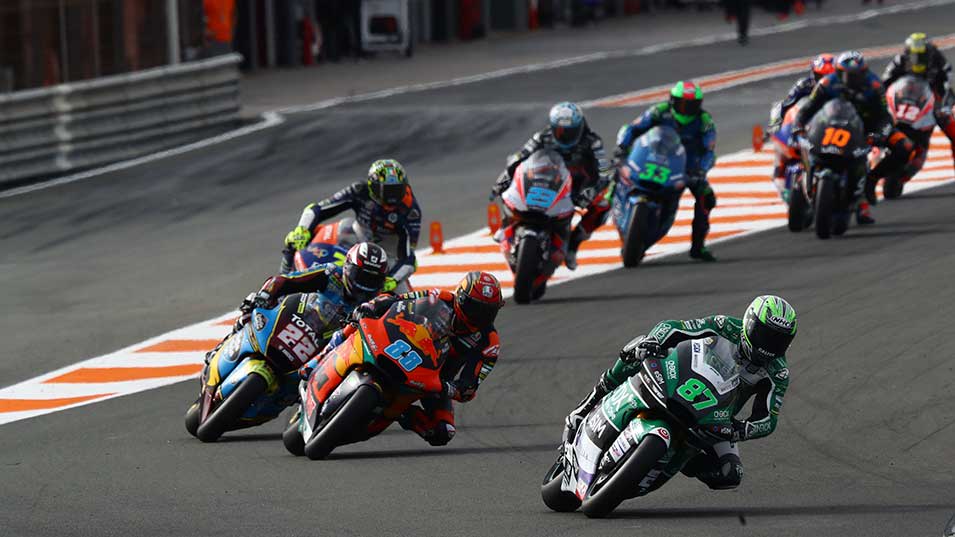 ENGINE
The Triumph-engineered 140PS+ race-tuned 765cc Triple engine exclusively powers the Moto2™ World Championship.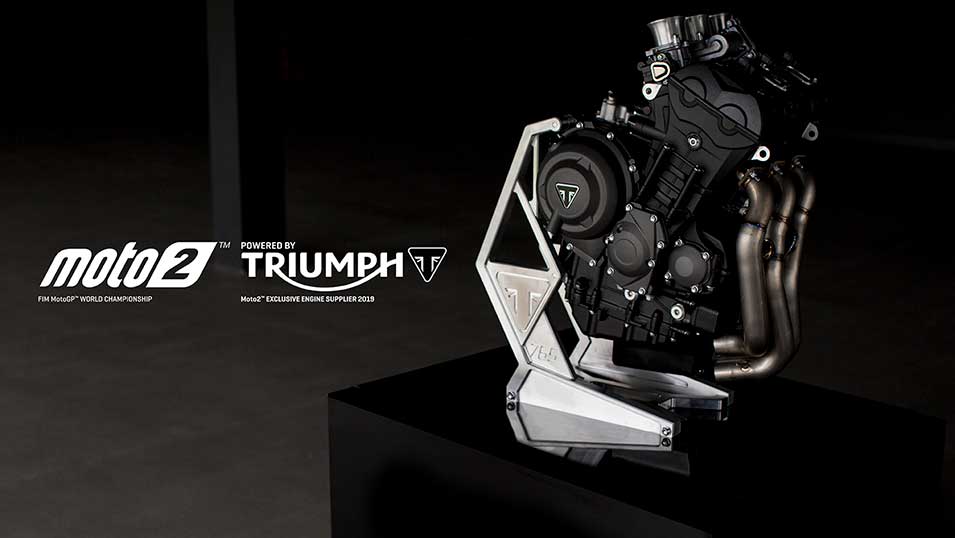 TRIUMPH TRIPLE TROPHY
To celebrate the closeness of the competition in Moto2™, Triumph and Dorna run the 'Triumph Triple Trophy #PoweredByTriumph'.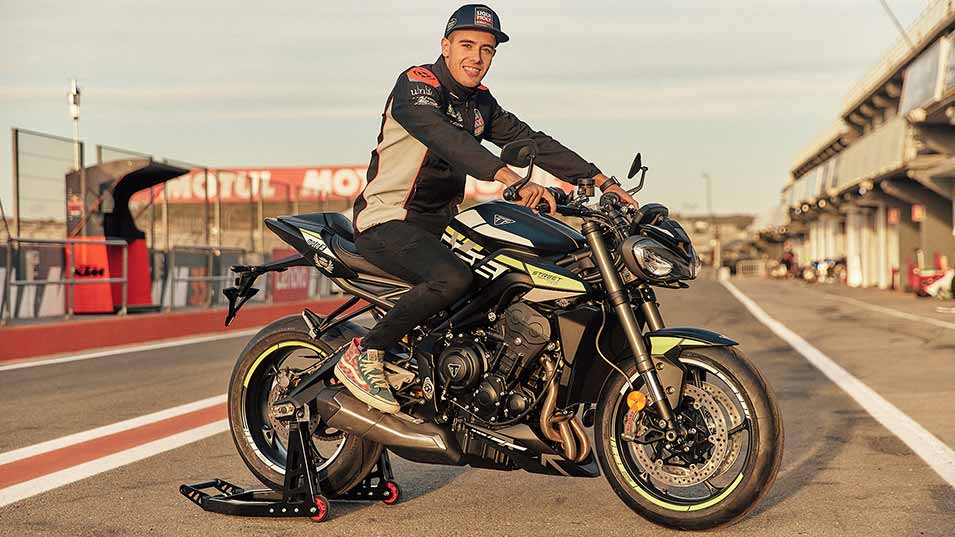 BREAKING RECORDS
In the first major change to the Moto2™ category since 2019, the Triumph 765cc triple engine continues to revolutionise the class:
14 different race winners
Lap records set at 34 GPs and counting, including records which have been broken and re-broken year-on-year
The first ever 300+ km/h Moto2 top speed recorded at Mugello 2019.
And a new 301.8 km/h all-time Moto2 speed record was set in Phillip Island
Over 650,000 km of flat-out racing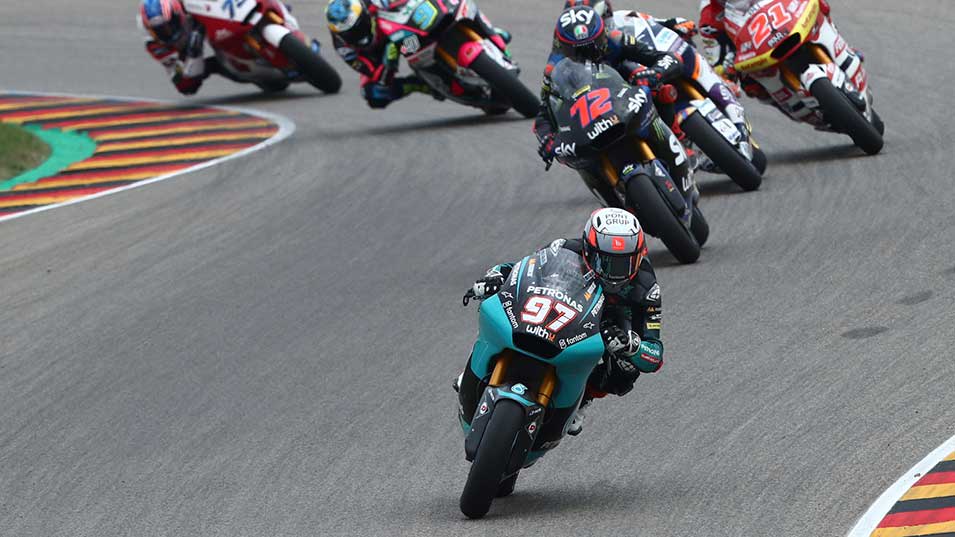 STREET TRIPLE 765
Powered by Moto2™ race engine evolution, for the highest performance, highest specification and most agile Street Triple line-up ever.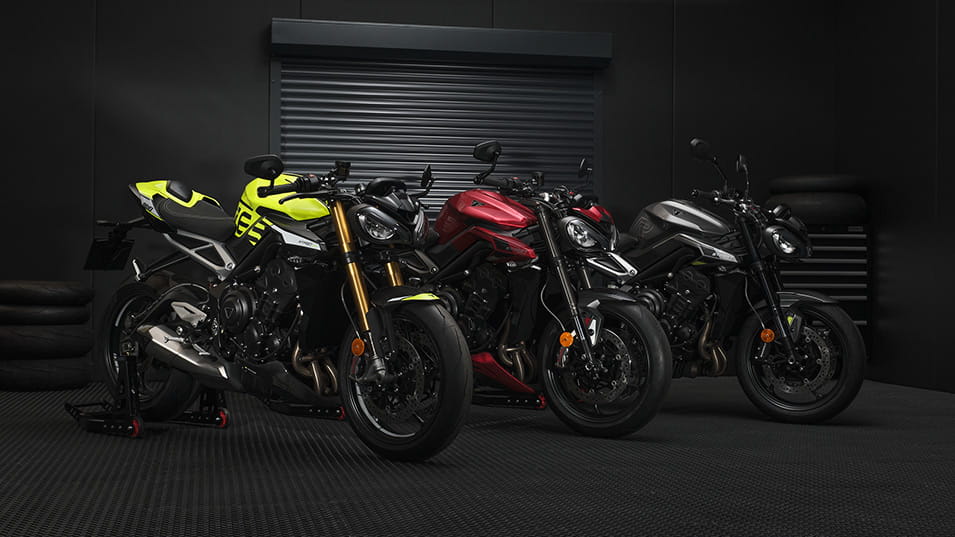 racing pedigree
The Moto2™ engine represents a milestone in Triumph's international racing history.
For more than a century, race winners, record holders, and icons of the starting grid have chosen Triumph.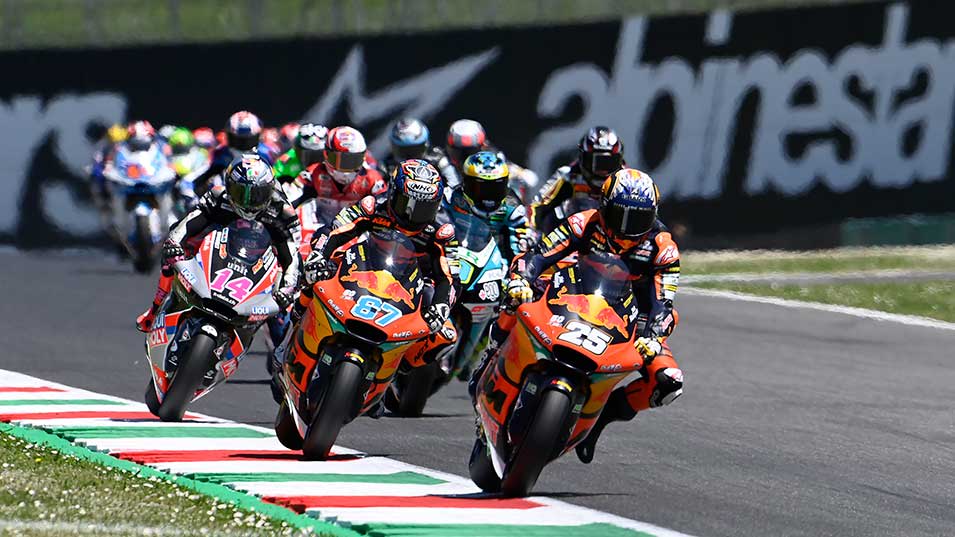 clothing collection
Celebrate Triumph being the exclusive engine supplier to all FIM Moto2™ World Championship teams with this range of authentic casual wear clothing.