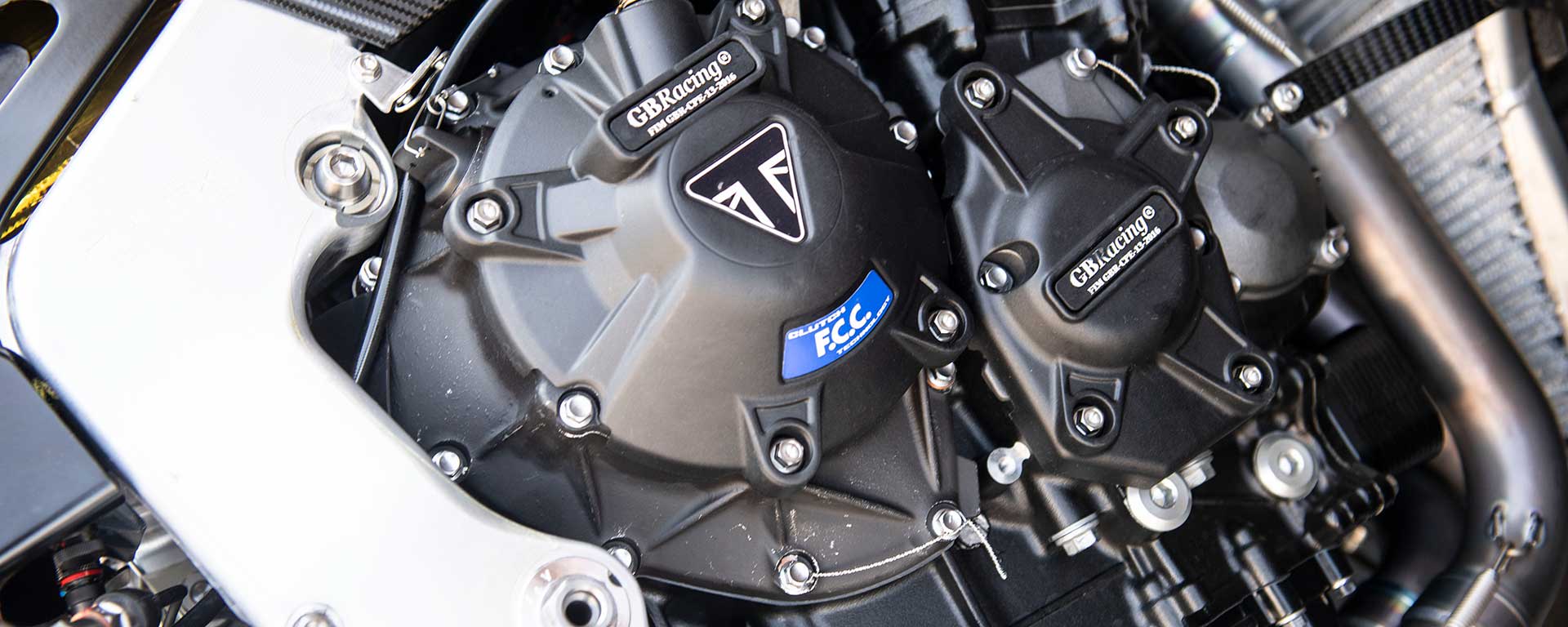 engine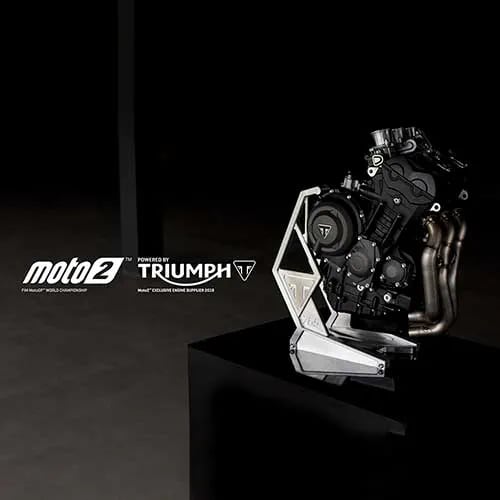 EXCLUSIVE ENGINE SUPPLIER
The new Moto2™ engine is a race-developed 765cc Triple engine based on the powerplant from the class-leading Street Triple RS, with improvements that allow the engine to breathe more freely and rev harder than the production bike, and a peak power figure of more than 140PS.



ENGINE COMPONENTS
Developed from Triumph's class-leading 765cc Street Triple RS powerplant, there are a number of race modifications that have been made to the Moto2™ engine to directly enhance performance, including:
PERFORMANCE ENHANCEMENTS
Modified cylinder head with revised inlet and exhaust ports for optimised fuel flow
Higher compression ratio
Titanium valves and stiffer valve springs for increased rpms
Low output race alternator kit for reduced inertia
Revised 1st and 2nd gear ratios
Race developed slipper clutch (which is tuneable)
Specific race ECU, developed with Magneti Marelli
Revised engine covers for reduced width
Different sump for improved header run
High performance coatings to key internal components
RACE ENGINE COMPONENTS
Increased bore and stroke
New crank
New pistons
New connecting rods and balancer shaft
Nikasil plated aluminium barrels
Revised gearbox
Racing Revolution
Already renowned as one of the great sounds in motorcycling, Triumph's 2019 765cc Moto2™ Triple engine is the result of a two-year engineering development programme, with race-tuned modifications that deliver over 138 horsepower and provide greater Moto2™ performance levels than ever before... as well as this hair-raising soundtrack!
Sound from: The MotoGP™19 videogame

Turn up the volume and press the button
Turn up the volume and press the button
ROLLING ROAD TESTING
Exclusive footage filmed at Triumph Motorcycles' Hinckley, UK factory demonstrated the 2018 Moto2™ prototype in action on an early rolling road test.
STREET TRIPLE 765
Powered by Moto2™ race engine evolution, for the highest performance, highest specification and most agile Street Triple line-up ever.