BONNEVILLE T100
ICONIC
CAPABLE
BEAUTIFUL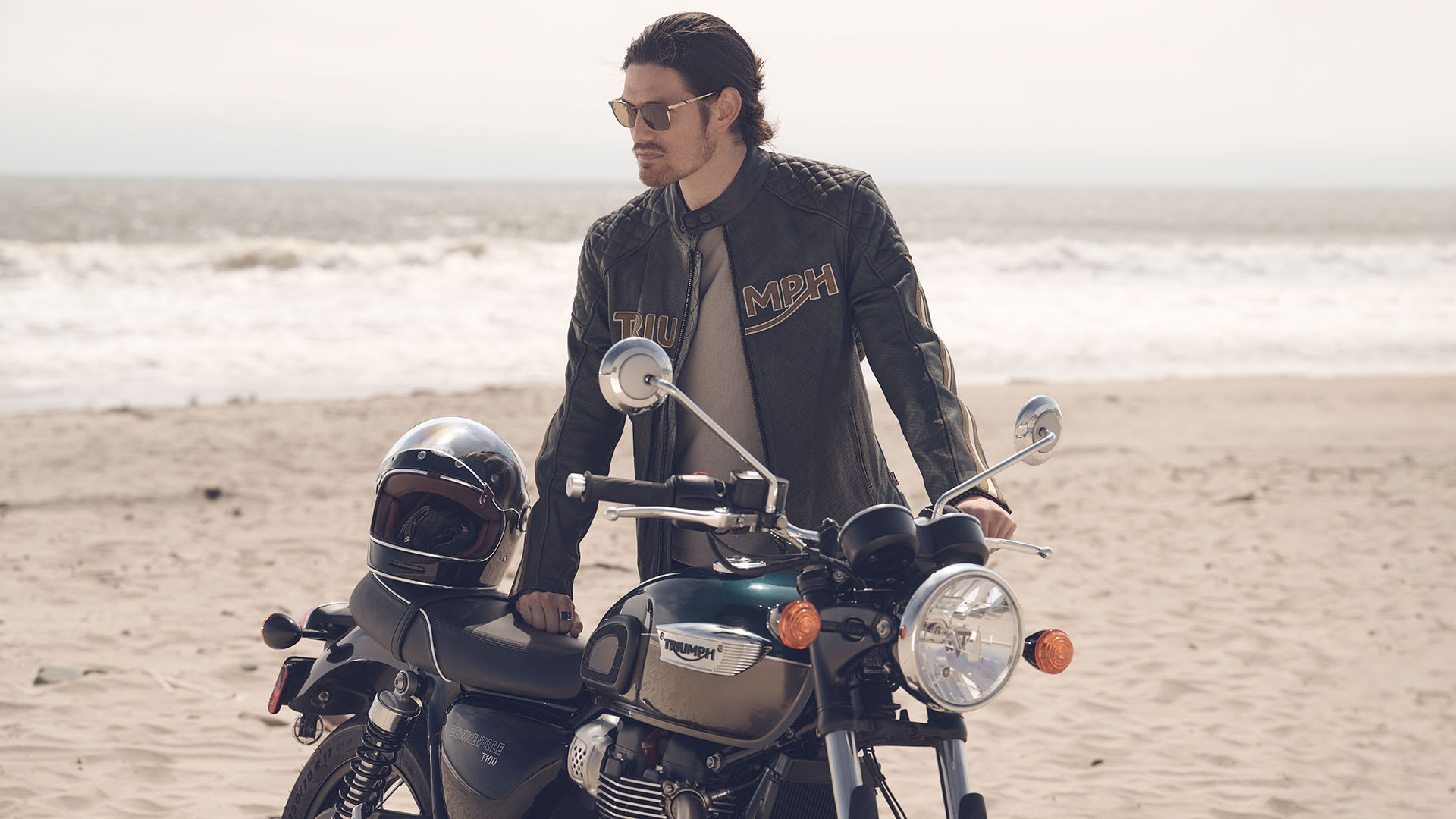 AN ORIGINAL FOR EVERYONE
Timeless style, thrilling performance, and confidence-inspiring easy ride. The T100 is the perfect introduction to the iconic Bonneville family.
Beautifully evolved, the 2021 Bonneville T100 is a contemporary classic, enhanced with greater performance, higher specification, and even more style.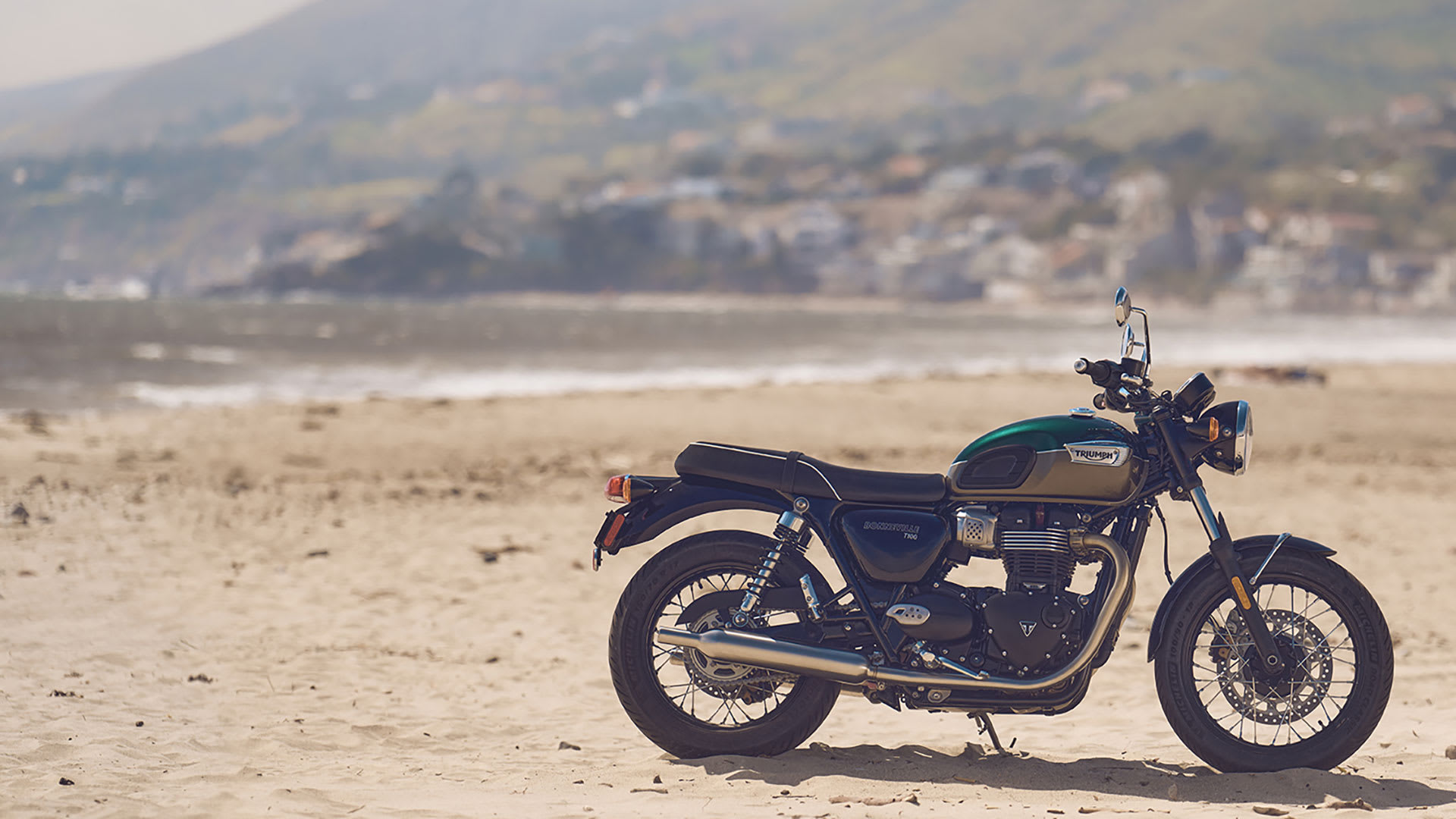 BONNEVILLE T100
With all of the signature touches of a genuine motorcycle legend, the T100 offers beautiful iconic style, easy handling, and modern capability.
Price From £9,595.00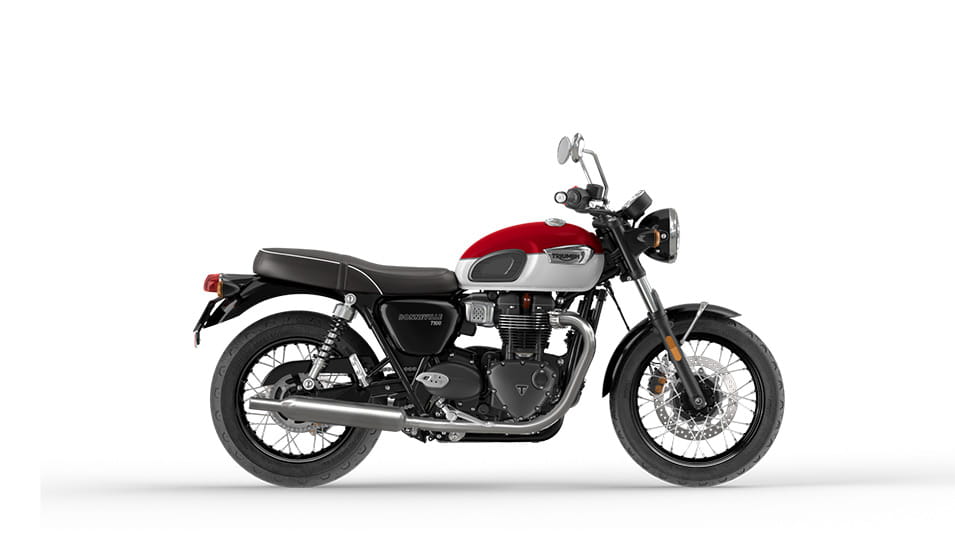 NEW BONNEVILLE T100 BLUE STEALTH EDITION
Flawlessly finished and transitioning seamlessly from a deep black to a vibrant blue, the character rich Bonneville T100 Blue Stealth Edition is available for one year only.
NEW BONNEVILLE T100 CHROME EDITION
The same easy-handling and accessible performance with a stunning new, custom-inspired theme. Available for one year only, the T100 Chrome Edition.
Price From £9,945.00
HIGHER POWER AND PERFORMANCE
Now Euro 5 compliant, the famous torque-rich Bonneville 900cc HT engine now delivers 10PS more power, a sharper throttle response and reduced emissions.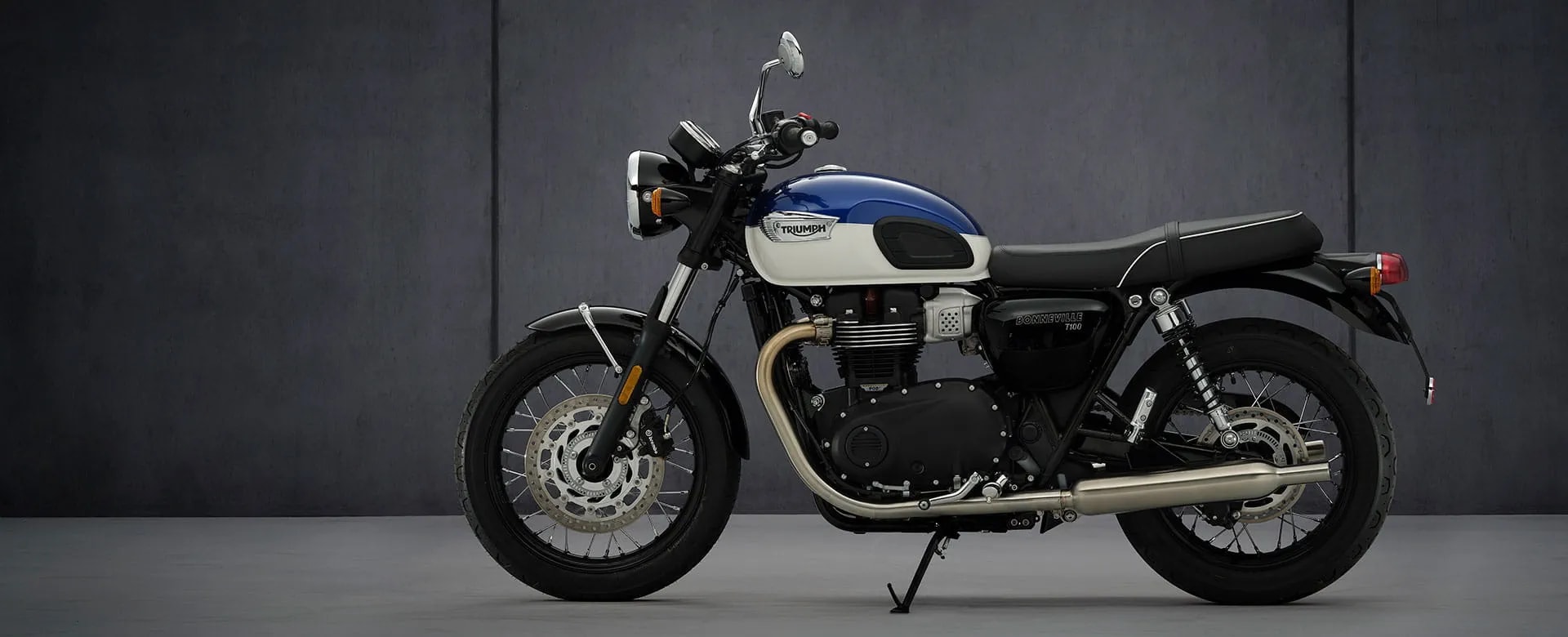 HIGHER SPECIFICATION EQUIPMENT
Enhanced specification cartridge forks and uprated Brembo brakes, give you excellent stopping power and more control, for an even more comfortable ride.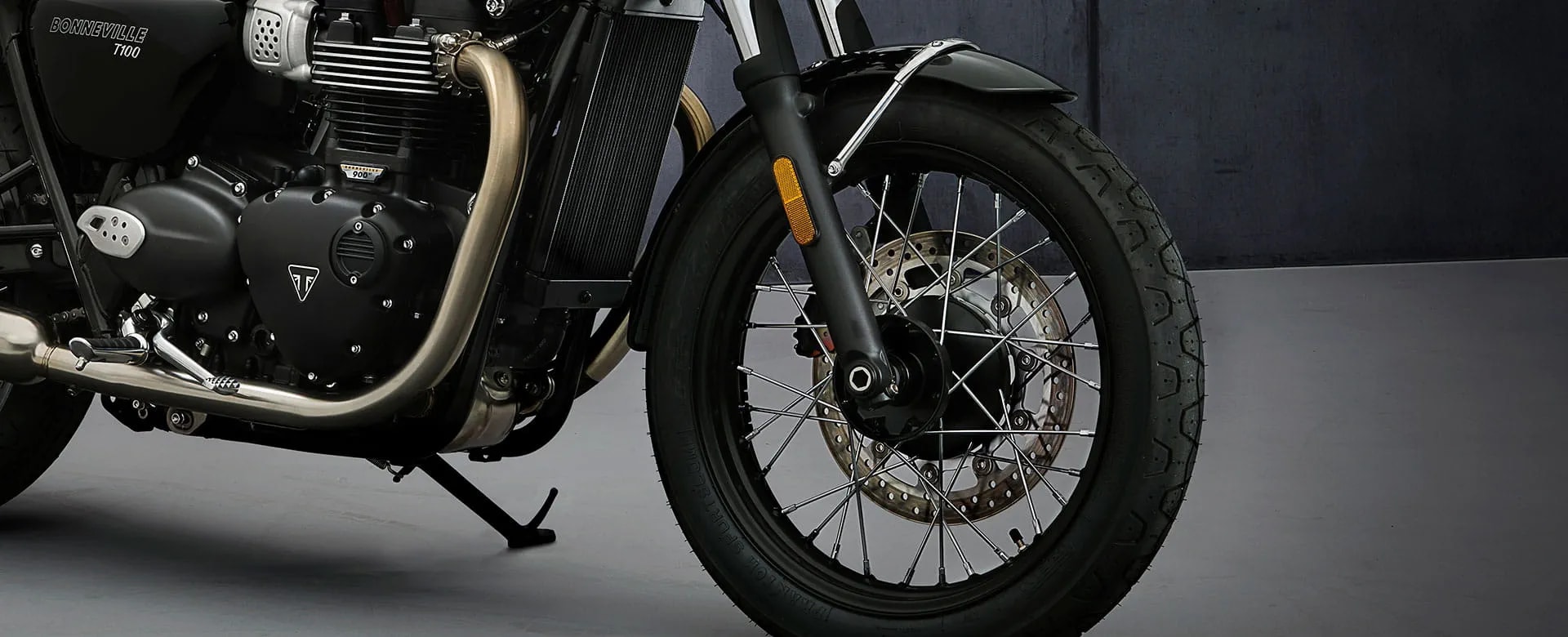 HIGH SPECIFICATION TECHNOLOGY
The latest rider technology, beautifully incorporated into the Bonneville's classic lines, includes ABS, traction control, and torque assist clutch.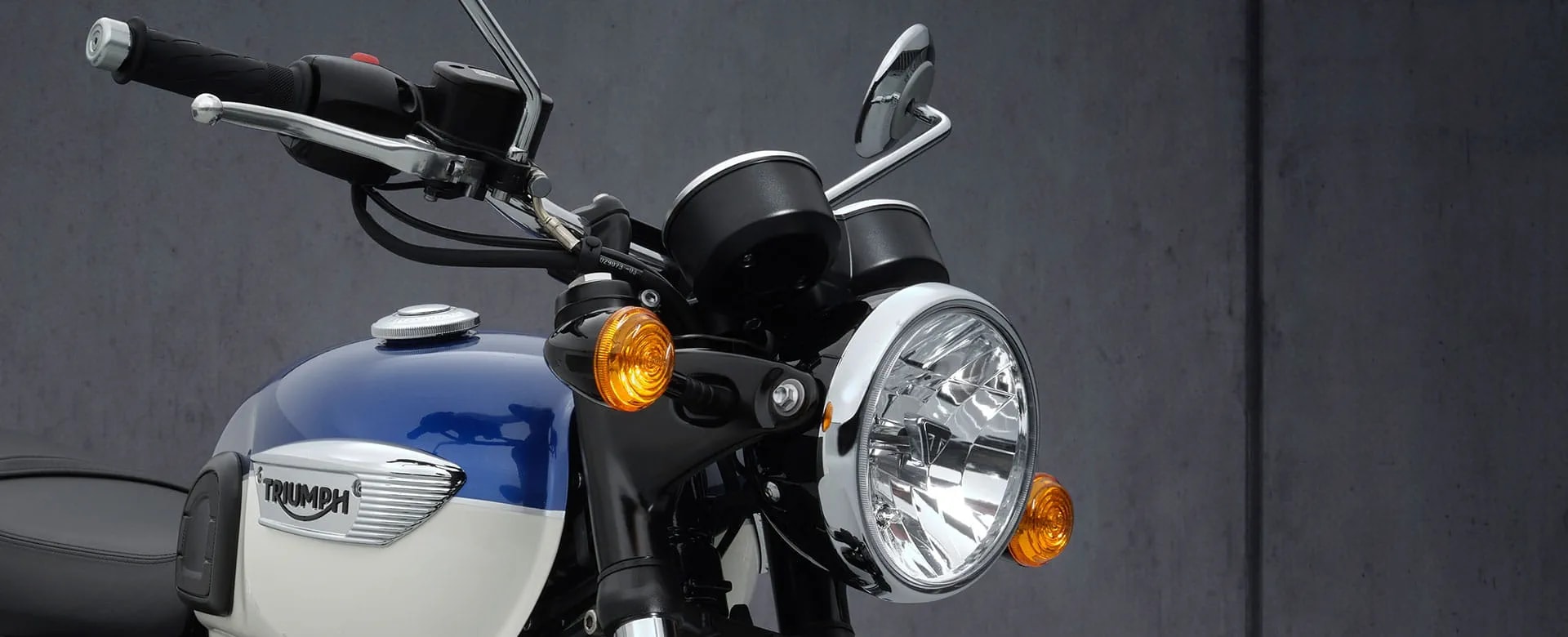 ICONIC STYLING
Unmistakably Bonneville, the T100 gets even more sophisticated detailing with a blacked-out engine and instrument faces, for a more contemporary style.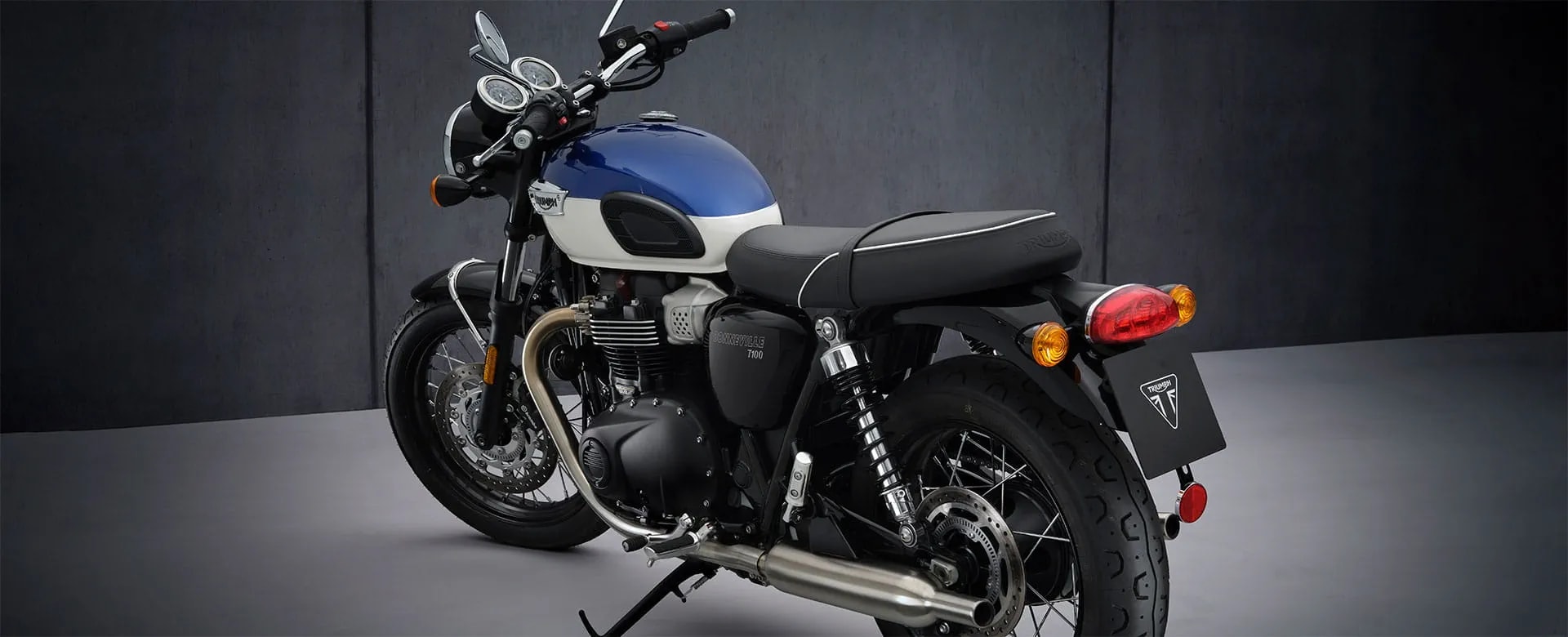 MAKE IT YOURS
With 117 Genuine Triumph Accessories to personalise your ride; all designed and tested to the same high standards as our bikes, including the same 2 year, unlimited mileage warranty.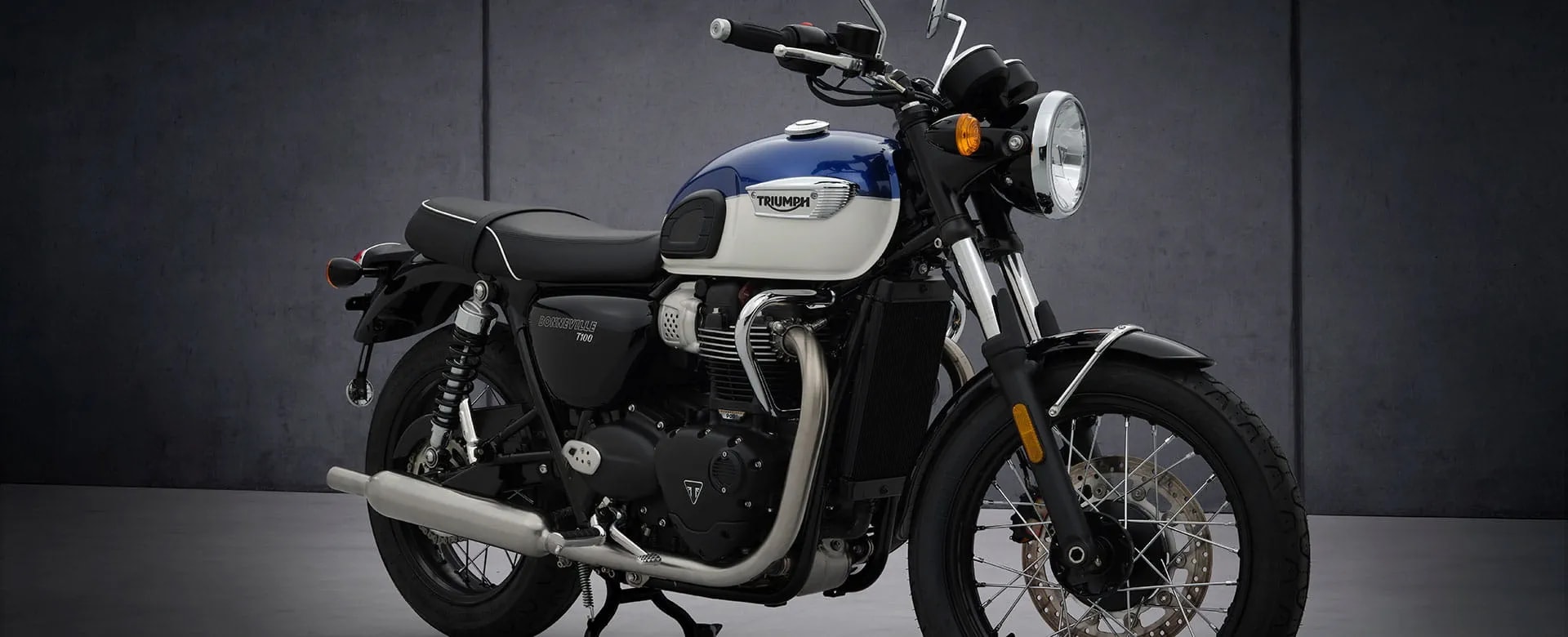 BONNEVILLE T100 IN NUMBERS
LEGENDARY BONNEVILLE SOUND
The deep and rich sound of a Triumph twin, with an exciting and characterful exhaust note.
Sound recorded in rolling road conditions
Turn up the volume and press the button
Turn up the volume and press the button
BONNEVILLE T100 PLAYLIST
Features and Benefits
Everything you need to know about the Bonneville T100.
BONNEVILLE 2021 LIVE LAUNCH
A stunning generation of these legendary British motorcycle icons, beautifully evolved with even more performance, capability, character and style.
BONNEVILLE 2021
With a direct bloodline to the very first 1959 landmark Triumph Bonneville, the updated 2021 Bonneville family encompasses the legendary spectrum of modern classic motorcycle icons from the original timeless T100 and T120 to the custom inspired Street Twin, to the authentic cafe racer Thruxton RS and laid back custom cruiser Bonneville Speedmaster and Bobber.
BONNEVILLE T100 CHROME EDITION
Timeless Triumph DNA, iconic style and modern capability with a custom-inspired chrome scheme. The T100 Chrome Edition — available for one year only.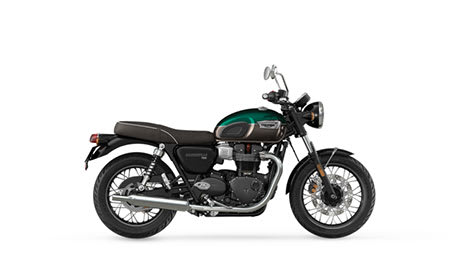 TEST RIDE THE BONNEVILLE T100