EIGHT TRIUMPH STEALTH EDITIONS FOR 2024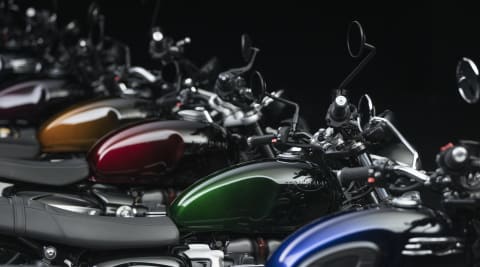 DRAMATIC NEW CUSTOM-STYLE PAINT FINISH
Innovative new technique from Triumph's world-class paint team

Stunning new Stealth Editions are available for one year only
The world will soon be seeing Triumph's Bonnevilles in a new light, thanks to a dramatic new custom-style paint finish which makes its debut on eight Modern Classics in 2024.
Available for one year only, the new Stealth Editions are an exclusive collection of eight beautiful Bonnevilles. Each model features its own unique tank design, which showcases a dramatic hand-painted finish that intensifies in the light to reveal vivid colour.
The eight Triumph Stealth Editions include the Bonneville Speedmaster in red, the stripped-back Bobber in purple, the T100 and T120 in a striking blue, the popular Speed Twin 1200 in red and the agile Speed Twin 900 in green, the Scrambler 900 in an eye-catching orange, and finally, the moody T120 Black features a sophisticated matt silver finish.