SCRAMBLER 1200 ACCESSORIES
MAKE IT YOURS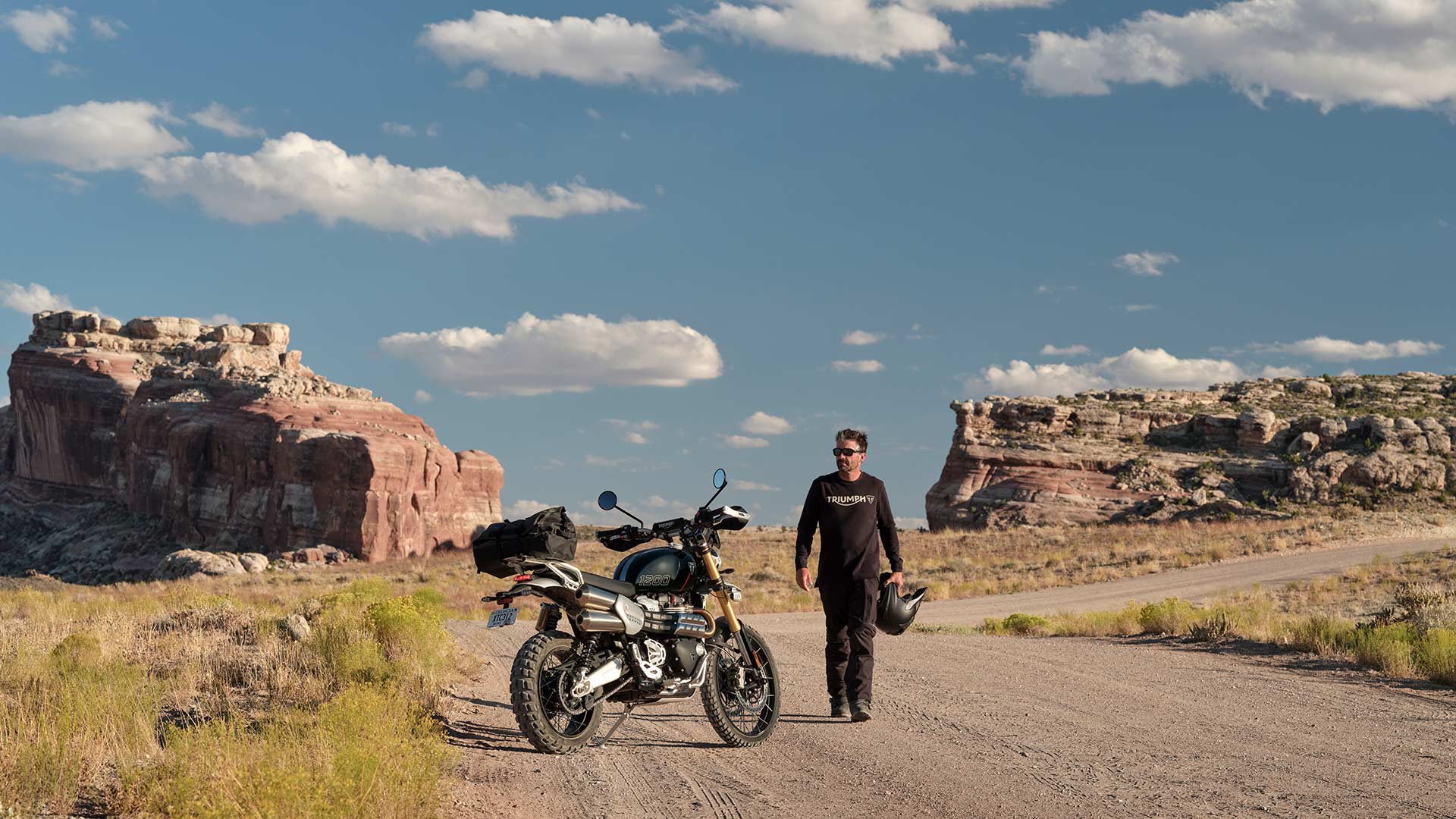 Designed and made to the same exacting standards as our motorcycles, there are over 60 Genuine Triumph accessories to help you get the most from your Scrambler.
From adventure essentials to the latest on-bike communications tech, there's something for every rider.
ACCESSORY - LOW SEAT
The accessory low seat reduces the seat height by 25mm, allowing riders to reach the ground more easily for greater confidence getting on and off the bike and during low-speed manoeuvres or stop-start riding. With the same stylish ribbed detailing as the standard seat, it's available in a choice of black or brown finishes.
ENHANCED TOURING CAPABILITY
The perfect choice for adventure, the Scrambler's touring capability can be further enhanced with a selection of rugged luggage options. This collection has been developed in partnership with Italian motorcycle luggage brand, Givi, and offers a choice of left-hand pannier, tank bag and a tail bag, all tailor-made for the Scrambler 1200 and combing to offer up to 72 litres of carrying capacity. A rear grab rack is also available, providing a strong and secure mounting point for additional luggage, like the fully waterproof roll bag, which comes in khaki green and provides an additional 30L of carrying capacity.
Further accentuating the Scrambler 1200's long-range comfort and capability, an accessory high screen is also available, allowing riders of all sizes to benefit from increased wind protection for reduced rider fatigue on longer trips.
Rugged Givi luggage system:
- 25L Pannier
- 12L Tank Bag
- 35L Tail Bag
- 30L Roll Bag
Accessory high screen
OFF-ROAD ATTITUDE
Tough enough for the most challenging off-road adventures, the Scrambler 1200 can benefit from some choice styling and protection accessories. Designed in-house, and carrying Triumph's two-year unlimited mileage warranty, these parts take the Scrambler 1200's incredible off-road capability to the next level.
A high-level front mudguard adds real off-road attitude as well as giving improved mud protection and is available in a brushed aluminium finish, or can be colour-matched to your motorcycle. An aluminium radiator guard compliments the mudguard perfectly while a neat headlight grille offers similar protection from errant rock strikes.
A padded handlebar brace adds a neat heritage-inspired touch and for added grip riding in the standing position off-road, a high-grip footrest kit made from forged CNC machined aluminium adds style, control and confidence.
Stainless steel engine bars add a tough off-road aesthetic while protecting the engine in the event of a drop and a neat relocation kit helps to keep the rear indicators out of harm's way.
And when the going gets a little soft, a side-stand base extension offers a wider footprint for improved support.
Handbook-approved Michelin Anakee Wild® tyres are also available from approved Michelin™ retailers — this premium dual-purpose tyre features an innovative tread block design inspired by multiple Dakar race-winning Michelin™ tyres, offering outstanding grip and control in the toughest conditions.
High level front mudguard
Aluminium radiator guard
Headlight grille
Handlebar brace
Hand guards with aluminium brace (fitted as standard on XE)
High-grip footrest kit
Stainless steel engine bars
Rear indicator relocation kit
Side-stand base extension
STATE-OF-THE-ART CONNECTIVITY
As with every Triumph modern classic, the Scrambler 1200 features the very latest technology, sensitively incorporated. Adding to an already long list of rider-focused tech fitted as standard, the TFT-equipped instruments are compatible with a new generation of Bluetooth motorcycle connectivity. Google-powered turn-by-turn navigation, music and phone operation are all made possible via the accessory-fit Triumph Connectivity Bluetooth Module.
World-class rider-to-rider/pillion and phone communication is available too, with a Sena 50S Bluetooth Headset. Featuring selectable headset language, voice commands, multi-channel open mesh, group mesh and Bluetooth intercom, keeping in touch with your riding group or making those essential phone calls couldn't be simpler. And the system is optimised for seamless integration with your Triumph motorcycle, allowing safe and convenient control with the ability to adjust volume, skip audio tracks and answer calls via the Scrambler 1200's switchgear. Crystal clear sound comes courtesy of audio experts Harman Kardon.
Connectivity Bluetooth Module
Triumph Sena 50S Bluetooth Headset

ANTI-THEFT SECURITY
A broad choice of security accessories are included in the line-up to help keep your Scrambler safe from unwanted attention.
For solid home security, a ground anchor used in conjunction with the chain and lock kit provide the first stage of protection, and for those storing their Scrambler outside or travelling, a selection of tough, all-weather covers are available. Alarmed disc locks and U-locks offer another robust security option when out and about.
The Triumph Protect+ Alarm is Thatcham Category 2:1 approved and features a sleep mode and independent tilt and shock sensors. Supplied with two Triumph-branded key fobs, and designed for easy dealer installation, with its piercing siren, this is without question the best audible theft deterrent for your Scrambler 1200.
Should the very worst happen, the Track+ Tracker uses GPS to determine your Scrambler's whereabouts, so you'll always be able to locate your bike. The system will even send notifications to your phone if anyone moves or tampers with your pride and joy.
Ground anchor
Chain and lock kit;
All-weather covers
Alarmed disc locks / U lock
Triumph Protect+ Alarm
Triumph Track+ Tracker
SCRAMBLER 1200
Two great highly capable models; one even tougher decision. Which Scrambler 1200 will you choose?