TRIUMPH RACING & MONSTER ENERGY FOR MX2 WORLD CHAMPIONSHIP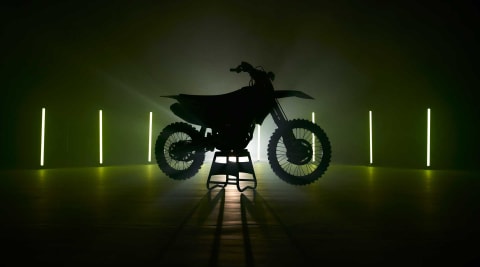 Exciting new partnership formed ahead of 2024 FIM MX2 Motocross World Championship
Triumph Racing is pleased to announce that it has joined forces with global energy drink and lifestyle brand Monster Energy ahead of the 2024 FIM MX2 Motocross World Championship. This exciting two-year partnership will see Monster Energy become title sponsor of the Triumph MX2 team, as the iconic British motorcycle company readies itself to step onto the global motocross racing stage.
Revealing imagery of the race bike for the very first time, Triumph and Monster are excited to share the name of the new team - Monster Energy Triumph Racing. The British brand's partnership with Monster Energy will heighten Triumph Racing's presence within the Motocross World Championship paddock while ensuring a bold and unmistakable appearance for the team. Triumph goes MX2 World Championship racing for the first time ever in 2024.
Monster Energy Triumph Racing will be managed by the highly respected, experienced, and accomplished duo of Thierry Chizat-Suzzoni and Vincent Bereni. Together, the pairing has helped guide multiple riders to success, winning no fewer than 80 GPs in the FIM Motocross World Championship.


As the 2024 season approaches, both Thierry and Vince are channelling their passion, desire, and technical expertise into Monster Energy Triumph Racing, working alongside Triumph engineers from the headquarters in Hinckley, UK, and the US racing team. The reveal of the team's MX2 race bike, which features the #25 of test rider Clément Desalle, marks the beginning of a new chapter in the British manufacturer's racing history.
Steve Sargent – Triumph Chief Product Officer:
"Partnering with a prestigious and passionate company like Monster Energy as we enter the ultra-competitive FIM MX2 World Championship is hugely exciting for Triumph Racing. We know just how competitive the series is, and that being at the sharp end of the field will be no easy task. But having a partner such as Monster Energy, who have built a long relationship over many years with Thierry and Vince, is a very proud moment for us, as is revealing our MX2 race bike. I'd like to thank Monster for their belief in our project and we look forward to a very exciting 2024, and beyond, with the Monster Energy Triumph Racing team."
Aaron Nixon O'Neill – Monster Energy Director - 2 Wheel Motorsports:
"We are thrilled to reveal the Monster Energy Triumph Racing team bike and team name. We're all very excited to get on the racetrack with this world-class team. It's been almost 10 years since we first partnered with Thierry, and we have enjoyed huge success together over the years. Along with Vince and the whole team at Triumph, we are ready to get behind the gate and launch into the 2024 FIM MX2 World Championship. We commend Triumph Racing and the entire team as this has not been an easy task, the sport is ultra-competitive, and the level of racing today is at an all-time high. We look forward to the first round and getting the season underway."
Thierry Chizat-Suzzoni – Monster Energy Triumph Racing Team Owner:
"We are very excited to announce this new partnership with Monster Energy as title sponsor of our MX2 team, as we enter a new chapter of racing with Triumph Motorcycles. We have enjoyed a very strong partnership with Monster in the past and they understand our sport, which is incredibly important when working together at this level. We appreciate and thank them for their trust in us and our programme, as we turn the page in history and enter the FIM MX2 Motocross World Championship with the completely brand new 250cc motorcycle from Triumph. Monster is one of the most recognisable brands globally, and their investment in action sports has been pivotal to the development of our sport, so this is a very proud moment for us as we share this news, reveal the livery of our race bike and the name of the team – Monster Energy Triumph Racing."