Materials handling apprentice - Luke
1) How long have you worked for Triumph?
I have worked for Triumph for 2 Years.

2) What education did you have prior to working for Triumph?
I went to Polesworth School, Polesworth, and studied my GCSEs and A-Levels.

3) Why did you choose to work for Triumph?
Triumph gave me a chance to engage in more practical work and to pursue a career that I wouldn't have been able to pursue whilst doing A-Levels. I have always had a passion to work with bikes from a young age and gaining an apprenticeship at Triumph enabled me to do this.

4) Where else have you worked within Triumph?
Just in Materials Handling but have been given a wide appreciation for all elements of the business, learning various job roles especially within the Materials Handling Department.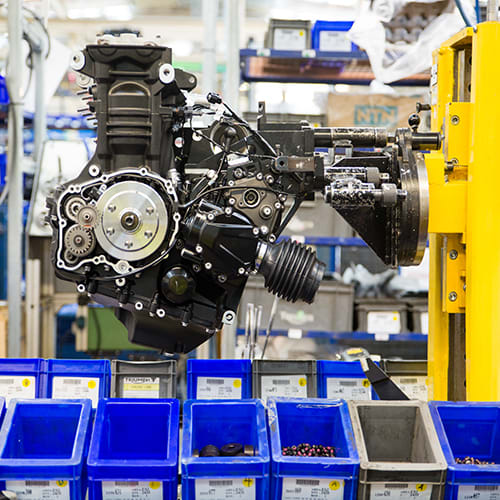 5) What work do you get involved in on a day-to-day basis at Triumph?
Process sheets, waste management stream, production engineering environment, a lot of responsibilities regarding motorcycle manufacturing, such as purchasing consumables, ensuring that quality standards are upheld. Shadowing more senior personnel within the department, learning new tasks on a daily basis. Dealing with external contractors and informing them of H&S issues, making sure the tasks they are asked to complete are to a satisfactory level in line with Triumph's standards. I do a lot of computer work, working on Excel and learning various IT systems related to the Materials Handling department.
6) What other roles are there within your team at Triumph and how do they help you?
Production Engineers (making sure systems are run effectively in order that operators can carry out the necessary work ) , Team Leaders, Operators and Supervisors to ensure that the Materials Handling department carry out the necessary work to aid the sole purpose of Triumph which is to build bikes. Main tasks include taking parts to and from the line, storing correct stock levels, and carrying out a new CKD operation to enable sales throughout the world.
7) What do you like best about Triumph?
The work ethic; there's a distinct drive to achieve the best possible across the company. Working relations between all employees are great with someone always there to help, I have been given many opportunities to get involved in varying tasks across the company.
8) How have you progressed whilst working at Triumph?
I have studied the ILM level 3 management course, I have also completed level 2 in warehousing and logistics, and i'm now moving on to level 3. These courses have increased my confidence to carry out more complex work within the department, taught me the basics and led to me going on to win Apprentice of the Year at NWHC for the year 2012. This was a clear indication of the progress I have made since joining Triumph. Triumph has given me a career path and something to aim for.
9) What did the recruitment process involve when you applied to work at Triumph?
Originally applied for Paint Shop Apprentice, and completed tests onsite, then had two interviews and then unfortunately on that occasion I wasn't quite what the hiring managers were looking for in that department. I then got asked to come back in for an interview for the Materials Handling apprenticeship, which I was successful in obtaining.

10) Describe Triumph in 3 words?
Passion, proud, challenging.