Design Engineer - Jonathan
1) How long have you worked for Triumph?

I joined Triumph nearly 2 years ago now.
2) What education did you have prior to working for Triumph?
I studied at the University of Warwick and left with a BEng in Manufacturing and Mechanical Engineering and a MSc in Manufacturing Systems Engineering.

3) Why did you choose to work for Triumph?
The job advert in the back of Professional Engineer immediately stood out because there aren't too many automotive design jobs available in the UK. I would not describe myself as a 'motorcycle fanatic', but knew of the brand and its reputation and the more I researched Triumph the more I wanted to be involved with the company and the design of its products. The highly competitive salary and benefits also helped!

4) Where else have you worked within Triumph?
I have only worked within the Design Department, however during my time in the department I have gained a lots of knowledge and appreciation for departments all over the business.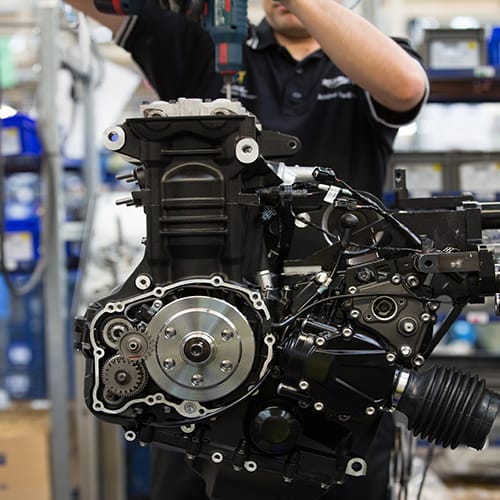 5) What work do you get involved in on a day-to-day basis at Triumph?
The work I do day-to-day varies hugely. One day I could be out testing a prototype part, visiting a supplier, sat at my desk using CAD or something else completely different. The variety in tasks is huge and involves working with a lot of different people all over the world.
6) What role do you have within your team at Triumph and how do they help you?
I currently work in a team of around 12 people and I am responsible for the design and development of the area around, and including, the yokes for a couple of bikes due for release in early 2014. My role involves modelling the components in CAD to producing the drawings. Then liaising with the supplier, team members and other departments within Triumph throughout the development of the parts all the way up to and after the bike enters volume production.
7) What do you like best about Triumph?
The large amount of responsibility given to me. It's very rewarding to see the first batch of parts from the supplier knowing that it's your design. Or seeing the first bike come off the line and knowing you helped design that.

8) How have you progressed whilst working at Triumph?
I feel, as an engineer, I have learnt an enormous amount since joining Triumph. It's been a steep learning curve. But I have been supported every step of the way. I've been on several training courses since starting and I have learnt loads of new skills and expanded many of my existing ones, most particularly my CAD modelling skills and general understanding of production processes.
9) What did the recruitment process involve when you applied to work at Triumph?
After seeing the job advertisement in the back of Professional Engineer and following the application process I was invited to sit a handful of tests at Triumph's Head Offices in Hinckley one morning. There was a group of 9 of us and after lunch they invited 4 or 5 of us back that afternoon to be interviewed by a couple of Design team leaders. A few weeks later I was asked back to be interviewed by the Head of Design and Head of Chassis Engineering. I was surprised at how much they wanted to know about me and what I was like, as well as my understanding of engineering. About three days after the second interview I got a phone call offering me the job and started 2 weeks later!

10) Describe Triumph in 3 words?
Exciting, challenging and rewarding.