Benefits of working for Triumph
We are just as passionate about our employees as we are about our motorcycles. Triumph recognises the other soul of the Company and wants to strike the perfect balance between rewarding and developing its employees.
Whether joining as an Apprentice or Under-Graduate or experienced professional, Triumph supports a vast range of training and development, through internal and external courses. Triumph also values and supports opportunities for employees to work towards both professional and technical qualifications.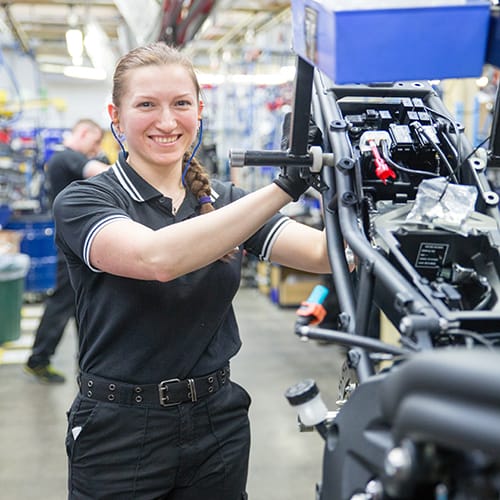 The benefits of working at Triumph Inclue:
Life Assurance Scheme
Pension Scheme
Employee Motorcycle Purchase Scheme
Clothing, Parts and Accessories Purchase Scheme
Employee Clothing Sale
Student Loan Repayment Programme
Discounted Employee Canteen
Long Service Awards (25 years)
Additional Annual Leave
Factory Visitor Centre Exhibitions and Tours and Shop
Childcare Voucher Scheme
Cycle to Work Scheme
Car Lease Scheme
These rewards are subject to Company terms and conditions and may vary from time to time.