THRUXTON RS
REASONS TO RIDE
The legendary Thruxton. Historic race winner and record breaker. Cafe racer weapon of choice. However you view this celebrated motorcycle icon one thing's for sure: the Thruxton RS delivers all the authenticity, focused contemporary sporting attitude and purity of our original cafe racer, together with all the modern performance and capability of a Triumph.

Now available to test ride in dealerships, these are the Thruxton RS highlights.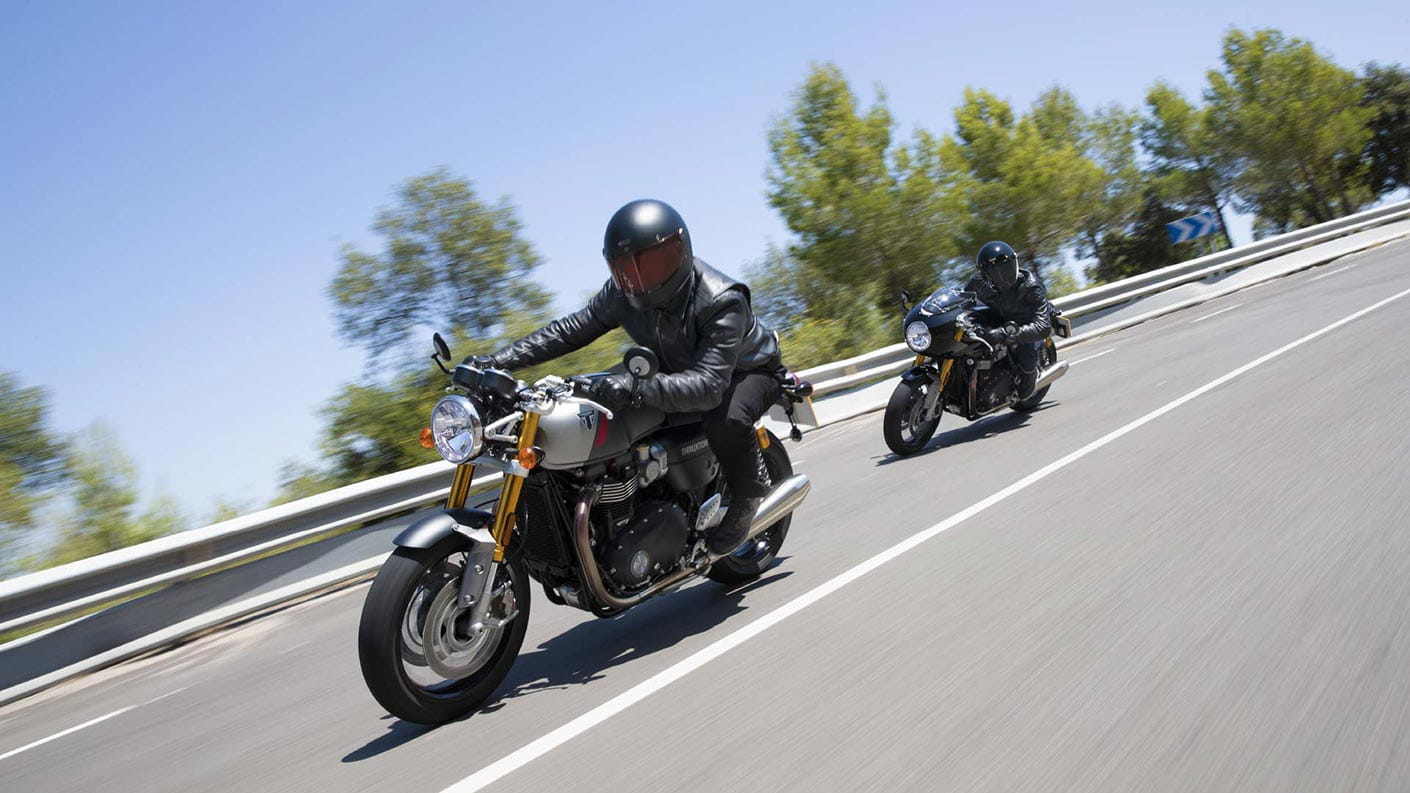 1. HISTORIC BLOODLINE
The success of the original Triumph Bonneville T120 Thruxton racer played a major part in the emergence of motorcycle racing during the late 50s and 1960s when this outstanding motorcycle literally made its name following the first-ever Thruxton 500 series race win, and securing its place in motorcycle history at the 1969 Isle of Man TT where it was the first production motorbike to average over 100mph.
In the 1960s, the Bonneville T120 distinctive nose-down posture and urban performance and handling made it a favourite with young riders keen to build their own 'Thruxton' cafe racer, but it wasn't until 2004 that a Thruxton graced Triumph's burgeoning Modern Classics line-up. The Thruxton RS takes up where the celebrated Thruxton R left off and evolves Triumph's cafe racer to a whole new level all over again, with significantly enhanced performance and specification.
2. HIGHER POWER THRUXTON ENGINE
The Thruxton RS introduces an updated Euro 5 compliant twin 1200cc Bonneville engine with significant updates that deliver more power, peak torque lower in the rev range, more amazing Thruxton character and an incredible British twin sound.
It's an updated engine with more power. With 105 PS @ 7,500 rpm the Thruxton RS peaks at 8PS more than the previous Thruxton to deliver a more thrilling cafe racer performance above 5,750rpm and all the way up to the rev limiter. The Thruxton RS torque also peaks lower down, too; 112Nm is now delivered at 4,250rpm which is 700rpm lower in the rev range than before.
Delivering a 20% reduction of engine inertia and 500rpm higher rev limiter, significant upgrades to this Thruxton RS engine include lightweight low inertia crankshaft, clutch, balance shafts, rare-earth alternator, magnesium cam cover, thin-walled engine covers, as well as high compression pistons, revised ports and cam profile, and secondary air system.
3. ENHANCED TECHNOLOGY & CAPABILITY
This is a motorcycle with all of the advanced modern capability and ride-enhancing technology needed to match its timeless racing looks. There are three enhanced riding modes – Road, Rain and Sport – each featuring a dedicated throttle map and a dedicated traction control setting for each mode to improve responsiveness.
The Thruxton's LED lighting set-up is unique, and benefits from lower energy consumption and greater long term durability. A distinctive LED Daytime Running Light* with branded bulb cap and minimal elegant LED rear light incorporated into the classically-inspired stylish rear end silhouette add an extra dimension of style.
Additional standard features include a USB charging socket, engine immobiliser, and a feature-packed twin clock set-up with at-a-glance information including riding mode setting, gear position indicator, fuel level and odometer completes the superb rider-focused technology of the Thruxton RS.
*Where local market legislation allows
4. THRILLING BRITISH TWIN SOUND
Unmistakably synonymous with Thruxton motorcycles, the RS exhaust system delivers the thrilling sound of a British racing twin with a rich raw note to match its legendary name. Sporty twin single-skin upswept reverse cone megaphone silencers contribute to a more characterful Thruxton RS soundtrack as well as an enhanced modern performance which employs Euro 5 spec catalytic converters to deliver low emissions.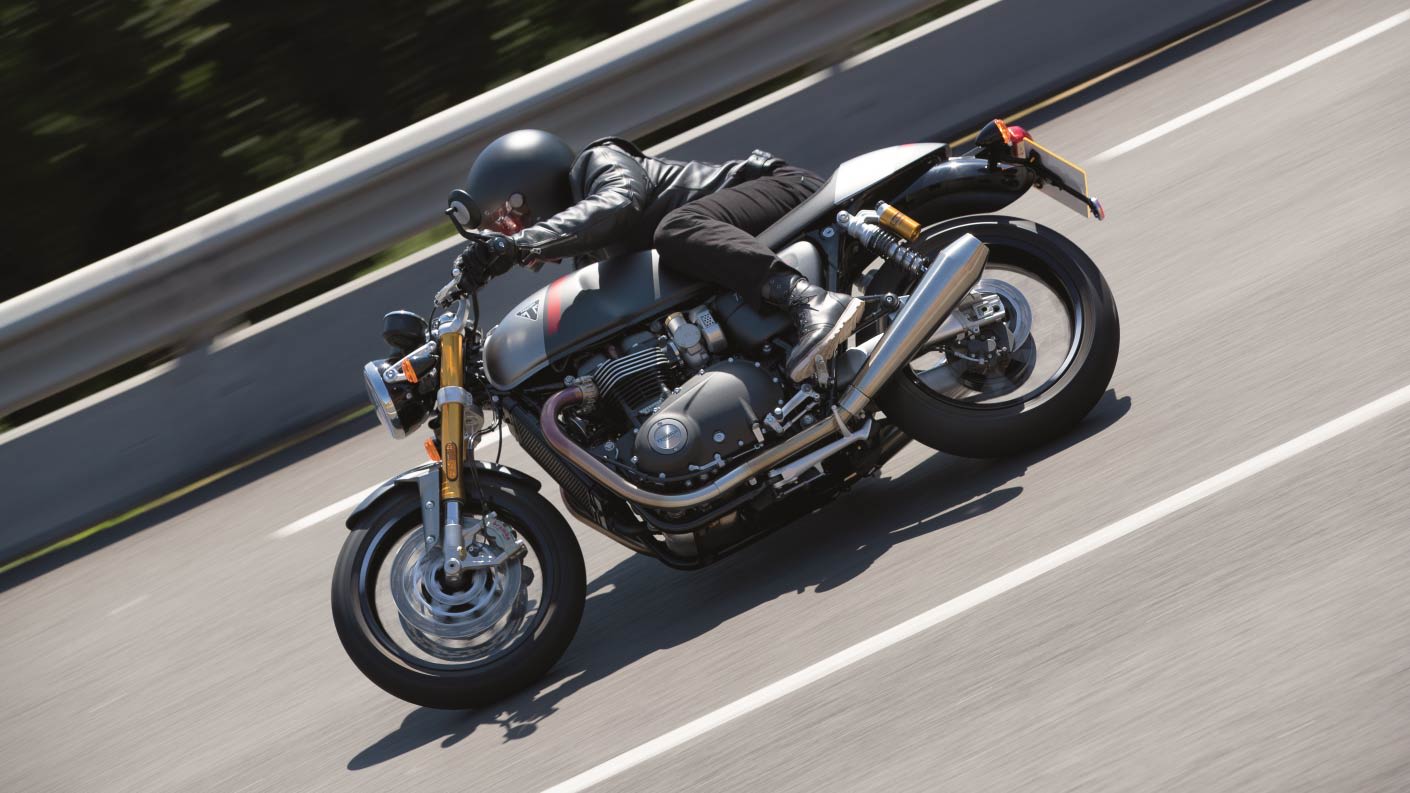 5. MORE AGILE & INTUITIVE HANDLING
Triumph's legendary cafe racer comprises an incredible combination of dynamic handling, agility and responsiveness to deliver a totally engaging riding experience.
The Thruxton RS is 6kg lighter than its predecessor, has more character, and is perfect for riders who love the focused sporting purity and performance of a cafe racer. Higher specification Brembo M50 monobloc brakes and race-bred adjustable Showa forks, a fully-adjustable Öhlins suspension set-up combine with Metzeler Racetec RR tyres and the weight saving deliver an even more agile focused ride.
6. ICONIC CAFE RACER STYLING
Nothing encapsulates the original British cafe racer attitude and authentic style like the Triumph Thruxton. The clean timeless lines and silhouette, distinctive knee pad indented tank, Monza filler cap and single bench seat are all irreplaceable hallmarks of the original Thruxton racer that inspired generations of riders.
The RS adds an even more distinctive contemporary fully blacked-out look, with an exclusive combination of premium detailing and finishes that enhance the bike's presence. These include black powder-coated engine covers, cam cover finishes, black Öhlins RSU springs, black Thruxton side panel and sprocket cover with integrated heel guard, and premium black anodised wheel rims.
7. 80 CUSTOM ACCESSORIES
A comprehensive collection of 80 genuine Triumph accessories have been created for this more powerful and higher spec Thruxton RS. Fitted by your Triumph dealership, Thruxton RS accessories add even more style, protection, comfort and security and reflect your own custom looks and riding needs. And if you want to quickly get the perfect stylish start for your Triumph dream racer, there's also a Track Racer Inspiration Kit featuring a host of pre-selected competition-inspired accessories including the stunning Thruxton Dolphin fairing with lower clip-on handlebar option.